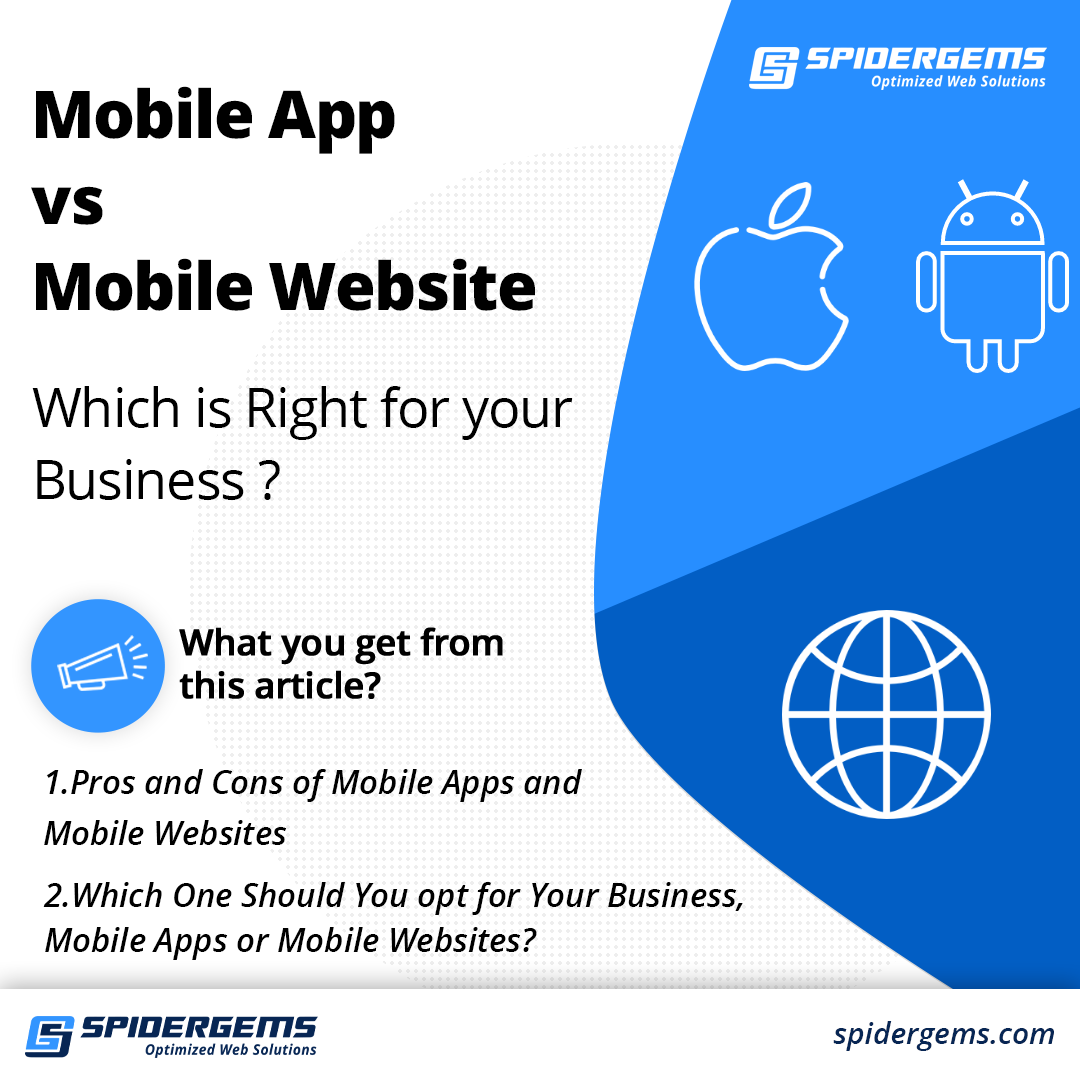 What do you get from this article?
1.

Pros and Cons of Mobile Apps and a Mobile Website.

2.

Which one to opt for your business between Mobile Apps & Mobile Website?

.
Mobile Apps
There are scenarios where building an application is an excellent solution when it comes to specific business needs. For example, set up features linked to native device functionality, like GPS, click-to-call, scanners, or cameras. An application will be more effective than a mobile website. However, there are many pros and some minimal cons to a mobile app listed below.
If your goal is to personalise a user experience to retain existing customers who consistently use the app, a mobile app is the most convenient way to do it.
2.Specific reporting
Extracting important complex data, manipulating charts and reports are better within a mobile application.
3.Native functionality
Although the web version can give some simple mobile-specific features, an app takes all the advantages of native functionality. It quickly gains access to the device's operating system, camera, flashlight, etc.
4.Offline mode
An app can provide a specific stack of functionalities without internet connection usage, unlike the website. Indeed, business owners tend to choose options that cost less and generate higher profits. So it can be either a mobile website or an affordable mobile app.
5.Loading speed and time
In this era, just a second delay in loading time can cost you a loss in your revenues. Mobile apps are faster than mobile website any day. Unlike the mobile web, the user must click on a small icon of your app to start their journey with your brand. Mobile apps can be quickly opened in no time. Higher conversion rates with mobile applications go along with lesser bounce rates.
1.Maintenance and support
When an app is developed for several different platforms, supporting it also takes more money and time. Indeed, you need to come up with upgrades and fix compatibility issues for every type of device regularly. Besides, you have to inform your audience about these updates and push them to download the updated version of the mobile app. Another issue related to maintaining an app is the effort and time needed to get approval from the app's markets.
2.Compatibility
To ensure regular functioning, a mobile app should meet the requirements of the particular operating system. This means that iOS, Android, and Windows should require a separate app version.
However, it's possible to create a cross-platform solution that's supposed to fit every device and operating system.
But cross-platform application frameworks don't provide full support for each operating system and every module. For example, a cross-platform framework may not support 3D graphics, leading to limitations in creating and displaying app designs. Restrictions like these may impact the stability of app features and may lead to sub-optimal functionality.
A mobile responsive website is extremely accessible to users. They represent a brand's look and feel, facts, pages, and content in a handheld dimension. It additionally improves readability and functionality.
To evaluate your choice between a mobile app and a mobile website precisely, let's look at the pros of the mobile website as well as its cons.
1.Compatibility
A website uplifts the user experience across different types of mobile devices. In contrast, a mobile app requires developing a separate version for each device and operating system; therefore, users who own devices of different types may especially appreciate the benefits of compatibility that responsive websites provide. In addition, they support easy integration with other mobile features like text messaging and QR codes.
2.Support and Maintenance
Websites also cost less to upgrade. This is because you need to maintain just a single version of them. Compared to mobile apps, which require downloading every update, responsive/mobile websites let you change the content or design by editing them once and allowing you to do that efficiently and flexibly. In addition, after implementation, updates become active and visible immediately across all types of devices.
1.Convenience
Unlike a mobile application, a responsive/mobile website can't leverage all smartphone features as efficiently. Cameras, GPS, phone dialling, and other parts integrated into mobile devices aren't continuously well created for responsive mobile sites, even though APIs and libraries aimed to help solve these problems have been appearing lately.
2.User experience
Since mobile experiences differ from desktop experiences, implementing the same interface for both platforms may harm your UX. This primarily relates to the single-window restriction. The single-window limitation says that users shouldn't have to leave their current page to access all the content they're looking for; however, it's often impossible to fit everything onto one page with mobile sites.
3.Offline access
Even if you create your mobile website in the lightest and most informative way possible, it still may work offline, but with only limited functionality using cached pages. Therefore, a Website requires a good internet connection to work continuously.
Final Verdict
If you wish for a mobile version of your website, you don't need an app. We can develop your site to be completely mobile-optimized.
However, if you're looking to use some additional functionalities available on smartphones to bring value to users, a mobile application is also a good option!
Contact Spidergems, a leading website and mobile app development company, to debate your website or app ideas!