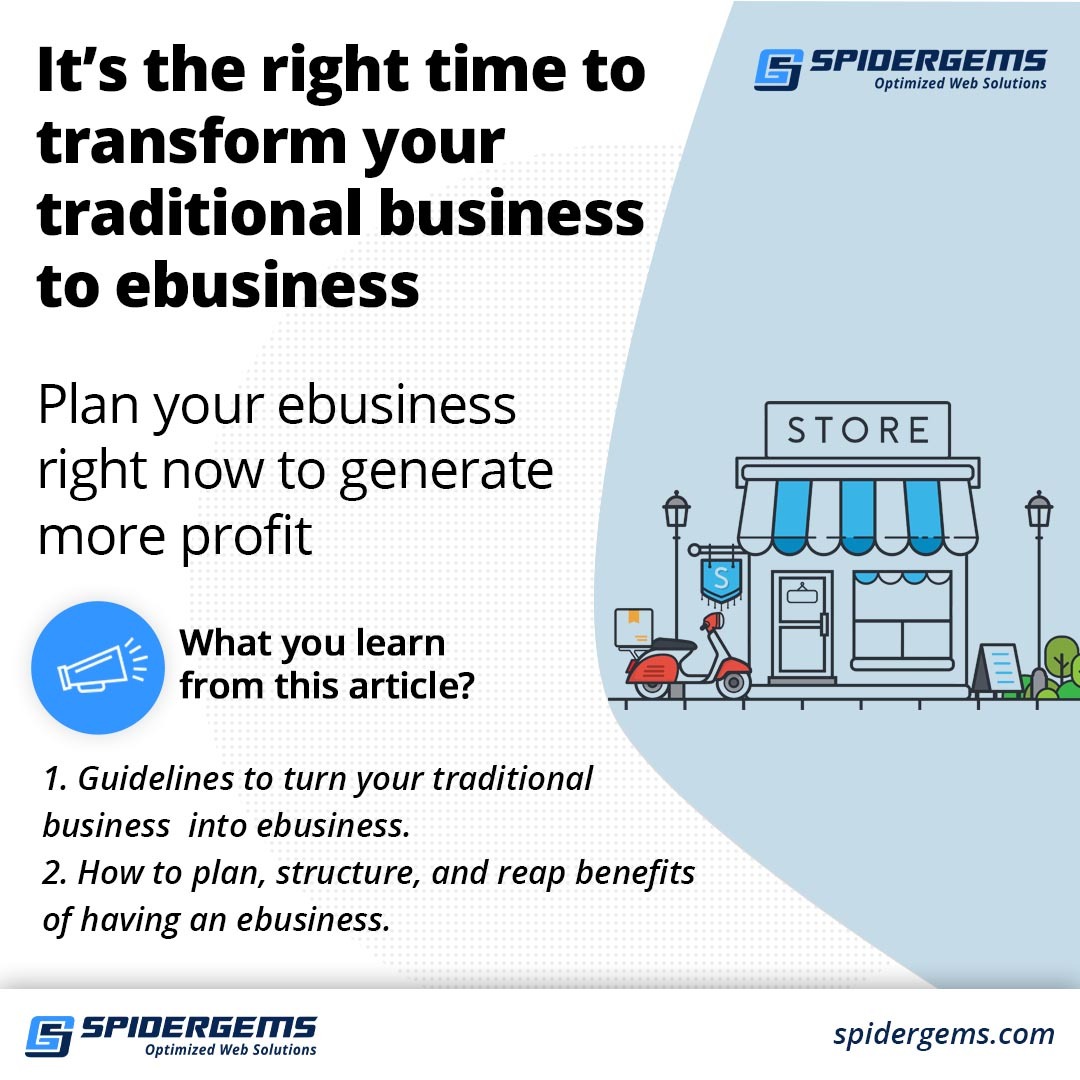 The Internet plays a paramount part in the way business is done in the present, which makes it important for all business verticals to stay agile, knowing their internal and external environment, current trends, and new value positions.
In this digital era, you are impelled to change your traditional business to ebusiness, that is, moving it into an online market platform that facilitates the transactions of goods and services between merchants and customers. This would also help to advertise your business on a global platform.
Today an average customer can buy about anything through the web every day, and yet have a good shopping experience. The mind-boggling question every business owner has to deal with is just, how would one turn their traditional business to ebusiness?
This first step that you take for your business transition is quite crucial and would have a very good impact on the business if handled properly. Here are a few tips to get started with.
What you get from this article?
1. Guidelines to turn your traditional business  to ebusiness.
2. How to plan, structure, and reap benefits of having an ebusiness.
Ease of use: People across the globe prefer online shopping over traditional ones. This is primarily because of the simplicity and convenience it has got to offer. No matter what time of the day it is, people can order their products and get it at their doorsteps quicker than ever before.
Saves time and Money: E-business comes packed with advantages and one of them is saving the time of the customers as well as money by searching the required products in the blink of an eye. Customers are spoiled for choices with several products related to their search with many discounts and offer to choose from.
Informing the user about the product and services: Now decision making is a cakewalk as the consumer is well aware of the product and service with information being readily available from the description box which includes price, quality, size, and more information that help them to make a better choice.
Customer reviews: 9 out of 10 people rely on reviews to make a buying decision. Positive reviews have the power to influence customer decisions and help in gaining consumer trust that strengthens the company's reputation and in turn increases sales.
Payment methods: There are a variety of methods available to accept payment making it convenient for the customer. This includes methods like a credit card, debit card, cash on delivery, etc.
Cost-effective solutions: The powerful factor of e-commerce business is that it reduces the money that you spend on your business to reap a profitable ROI. This means you don't need to invest a huge amount to advertise your business, as there are many cost-effective methods available in digital marketing.
Accurate analytics: E-commerce helps you to calculate and enhance the number of sales, by monitoring production, targeting potential customers, and designing an effective marketing campaign deployment which will help to reduce the manpower and save a huge amount of time.
Brand recognition worldwide: A physical business store comes pre-built with a geographical restriction of the farthest customer that you can serve, but with an online business site, the sky is the limit! Your business can reach the corners of this world.
Plan for the conversion of traditional business to ebusiness
The first step before getting into E-business is, having a clear vision about the entire process of your business in detail and archiving each activity within the organization. Base your E-business procedure on your present strategies, and adapt the functions available within the E-business model. For example, organize every step right from receiving an order and till the shipment process out. Also, it is significant to add features like customer services, feedback, refund, payment methods, etc., to gain customer satisfaction and trust.
Name and logo
Naming your brand is a basic factor for your business. You can choose your traditional store name that is already familiar to your existing customers. Another important factor is the logo.The design of the logo should be unique that conveys the intended message of your business.
During the transition from a physical store into E-business, your website structure forms the essence of your organization in the eyes of your customers and competitors. The basic needs of an online customer are satisfied by the functional components of the site that includes content, design, images, navigation, etc. So, impressing your customers when they first land on your online shopping site is important.
People won't stay on your page if it took so long to load, hence rapidly loading pages are a must. A clean design with necessary details shouts professionalism. There are three ways to get your shop online.
A)The first one would be to reach out to an online website builder and design your web page cost-effectively.
B)The second way would be by hiring a developer to create a unique website.
c) Third way would be by  approaching  for e-commerce development company.
Whichever the way, it should  be worth and create an identity for your business in the online world.
Digital marketing
Marketing is one of the significant components of an E-business model that helps in creating a long-lasting bond between you and your customers. There are many marketing strategies available to analyse and target sure shot sales, which can be implemented in any business vertical. Here are some of the digital marketing strategies prepared by the best digital marketing company for your business
1.Social Media Marketing utilizes social media channels such as Facebook, Instagram, LinkedIn, etc to be in touch with your audience constantly and helps to build brand awareness, thereby increasing sales, and boosting traffic onto your website.
2.Pay-Per-Click (PPC) Marketing is another popular means used in internet marketing, where advertisers pay each time when someone clicks your ad. It is an excellent way to get organic traffic to your site.
3.Content Marketing is focused on creating quality content in the form of blogs, videos, presentations, etc., that is relevant to your niche. A CMS plays a significant role in creating blogs, managing content and managing products. WordPress is one such CMS that has a state of the art ecommerce plugin called Woocommerce which helps you to manage products,orders and customers. In addition, using WordPress CMS makes your online store SEO friendly and alluring.
Final thoughts
The growth of the online business is incredible and simply amazing. To put it in perspective, 300 million online shoppers are expected in the US alone by 2023. So, Building a strong identity in a digitized way is very important for your business. Fortunately, it is not so hard to turn your traditional business to ebusiness, you can find many sources to make your shop online very easily that brings an appreciable impact on your business.
Create a platform built on trust for your business that satisfies your customer's needs in every aspect.