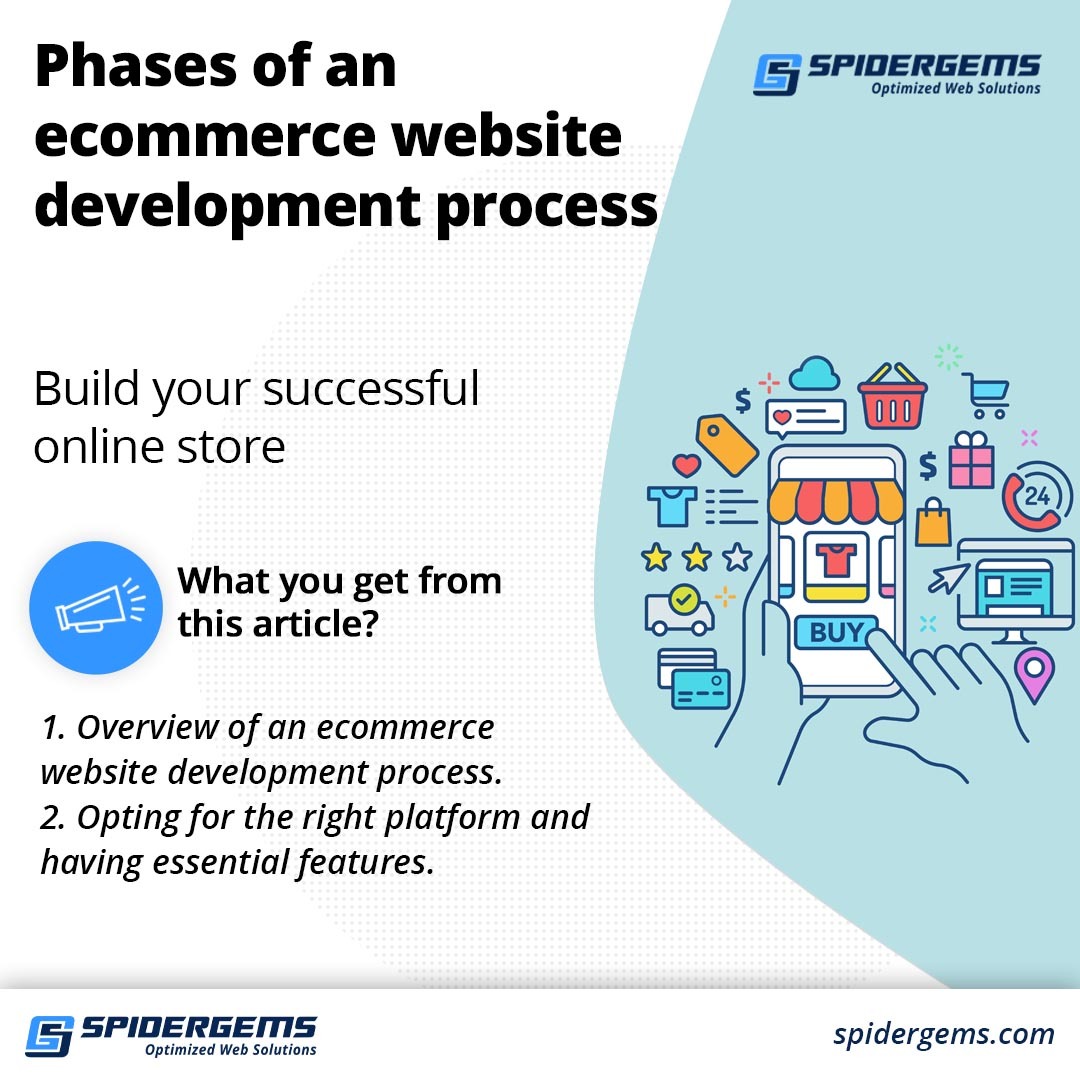 What you get from this article?
1. Overview of an ecommerce website development process.
2. Opting for the right platform and having essential features.
Finding your ecommerce business model
There are different types of ecommerce business models available at present out of which the important categories to be considered are business to business (B2B) and business to customer (B2C). While understanding its difference, knowing where your ebusiness fits in is significant.
(B2C)- Business to customer-Most of an online store that we come across today is based on business to customer (B2C) model. For example:- Amazon, Flipkart, etc. The list of products or services on this website is directly sold from business to the customers without any third-party player involvement.
(B2B)- Business to business-This segment refers to businesses that trade with other businesses. This kind of organization might manufacture or sell products and services within a given industry vertical.
Choosing the right ecommerce platform
When you are planning to step up from a traditional store to an online store, depending on your requirements you can opt for any one of the three means to achieve it.
1.Develop on an existing online ecommerce platform
2.Hire professional website developers
3.Approaching the best ecommerce website development company
Selecting the right ecommerce platform is quite a tricky process for any business and is also the prime step in ecommerce website development. There are options to choose from either hosted or self-hosted platforms. A few of the best-hosted platforms available online are WooCommerce, Shopify, Magneto, and Opencart, etc.. While these platforms come pre-built with significant features of an online store, you can always customize the platform features based on your needs. Significant factors to consider while opting for such hosting platform includes,
Security – This is of prime importance as we are dealing with customers sensitive information.
Uptime – Server downtime is as good as your shop shutters shut on a busy day.
Speed – Speed is the need of the hour as no one likes to spend time on a sluggish website.
Support – In case of a problem, an ever-present support team is required to help us solve it ASAP.
A domain name is a part of the URL that holds your business name. You must choose a good domain name as it helps in building trust among your customers. Below are some tips to choose a perfect domain name.
Country code: If you are selling your product to international clients, use the (.com) domain. If your product sales are confined for sales only in a particular country, then you can use that country code.
Uniqueness: The domain name must be unique and easy to be remembered by customers.
Use a keyword: Using keywords in the domain name helps in ranking high in search engine results, which ultimately would drive more traffic into the site.
Select best template for your ecommerce website development
Choose a template that would make your website look impressive and appealing. The choice of features plays a key role in building a good website. Conduct trials to discover which features are essential for your online store. When designing the homepage, make sure the selected theme is pleasing as it is the first thing, visitors would observe when landed. With a clear business goal in mind, decide on what type of content is required to keep visitors engaged. These could be videos, sliders, etc. The next important aspect is to make the process of navigation through your site easy. If visitors surfing your site find navigation a bit difficult, the chances of leaving your site increase, thereby increasing the bounce rate which would create a negative impact on the site.
The next main task in building your online business store is adding products to your site. The aspects that have to be taken care of while placing products in your site include a detailed product description, highlighted product name, correct categorization, details on dimensions, and price information. The product description should be short, informative, and SEO optimized. While the product image must be of high-quality, optimized, and different shots captured to show a full 360-degree view. Having a zoom bottom for product images and options to filter products based on size, cost, etc are additional features to look out for that customers need.
Payment methods in ecommerce website development
Online shopping sites have to be integrated with multiple payment gateway options to make customers not feel "left out" as the audience is wider. Analyzing and finding suitable payment methods from data such as the total number of sales and where your consumers are from, can help you choose the types of payment methods to be integrated into your website. Additionally, ensuring that your site is completely secured, helps in the long run as customers would not have second thoughts about sharing sensitive information. Cash on delivery is another good measure to encourage customers to buy from your store.
The next step is to integrate logistics service on your site to aid the delivery of products to the customers. Every shipment is unique as shipping prices differ between countries and regions. Adding features to calculate taxes on products that are not sent from the main office help customers to choose better. Here are a few shipping tips,
Free delivery: Providing free delivery can be set to be activated when the cart value exceeds a definite threshold which would not result in your loss. Such a feature can be included if you are selling a luxury item or in bulk in which you have a considerable margin.
Flat rate: This option is the best marketing tactic, wherein you can charge the same amount for delivering any products.
Real-time price: It is based on the product's size, weight, or volume and also includes a factor of distance.
Customer pickup policy: The last option is to tell your customers to collect the product from a local authorized store or at a designated delivery office.
The checkout process must be simple and convenient for customers. All payment methods, delivery charges, discount codes, product taxes, refund policy about the products should be listed out clearly during check out.
Functionality test during ecommerce website development
A through functionality test to make sure your website links, buttons, etc are working properly should be carried before launch. If any functionality in the site does not perform as intended, it will result in losing your valuable customers.
The content placed on your site must be unique, informative, catchy, and natural. More importantly, it must resonate with your brand.
Ecommerce website development along with mobile optimized
90% of people spend most of their online time on smartphones. Hence ensure that your site is mobile friendly and also verify it is responsiveness in all popular devices like tablets, laptops, etc.
Test your site for accessibility on various web browsers. Also, verify your website loading speed and fix the bugs before launching
Final Thoughts
The voyage of the perfect ecommerce website development process begins with understanding your business requirements and goals. We at Spidergems, providing the best ecommerce solutions for all business verticals irrespective of the geographic location. We have been recognized as the best ecommerce website development company in Chennai.