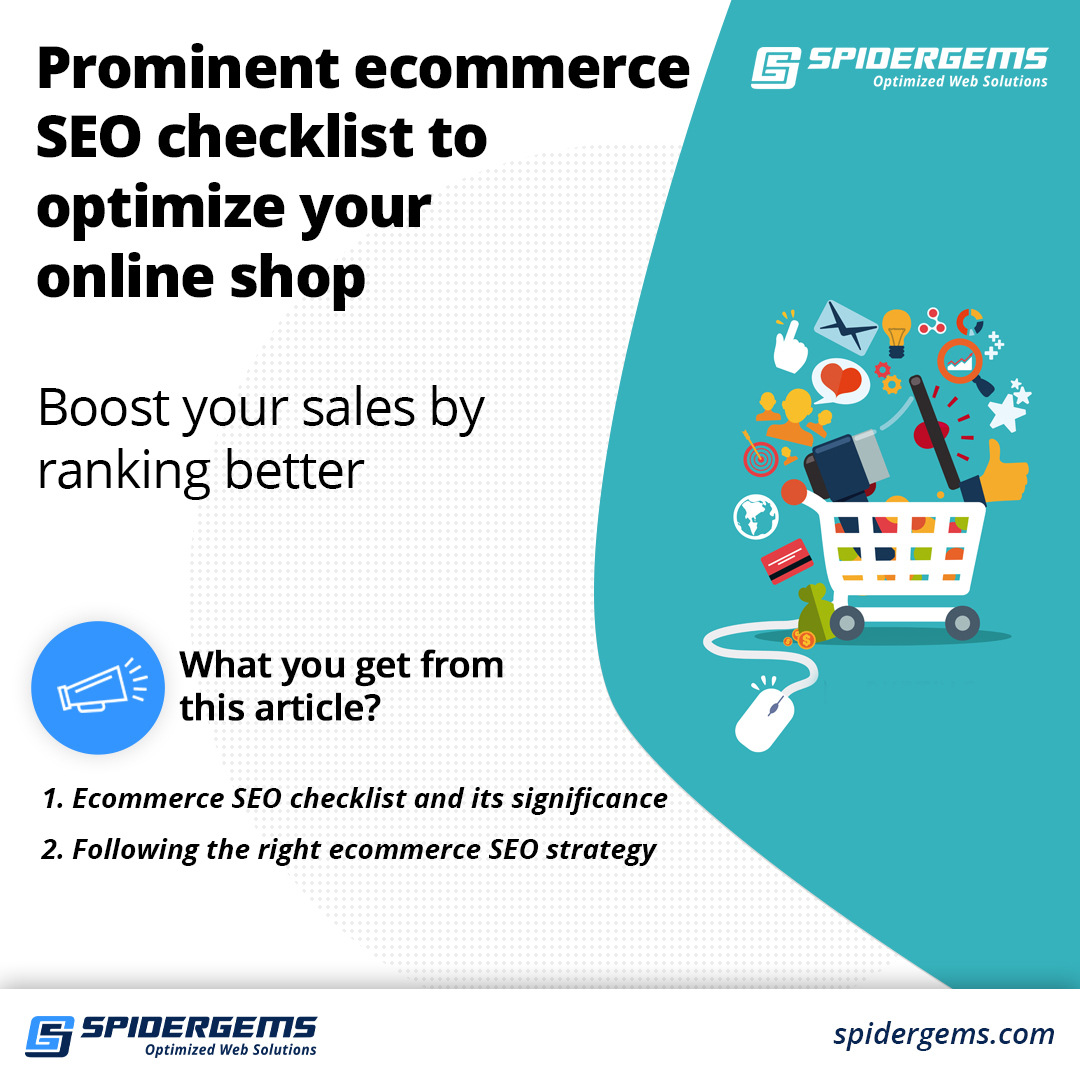 What you get from this article?
1.Ecommerce SEO checklist and its significance.
2.Following the right ecommerce SEO strategy.
Successful ecommerce SEO strategy
A successful ecommerce SEO strategy begins by setting a robust base that will help all of your other SEO attempts.
To start with, prioritizing keyword research is a must. When you have a list of target keywords, it helps you to reach out to the right audience with a pinpoint precision which ultimately results in greater conversion rates.
Good keyword research is important for every ecommerce store as it assists in rendering the required product to the correct audience at the right time. Let us help you in selecting the right keywords to rank top in SERPs for your website.
Keyword research for ecommerce SEO checklist
Keyword research is nothing but identifying words and phrases that generally users key in into search engines for getting desired results. Scrutinizing keywords provides an insight into what your target audience or consumers are searching for [i.e.] what exact words or phrases they search. There are tools available online for doing keyword research. Some of the best tools that we would like to suggest are Google keyword planner and Ubersuggest. These tools will provide information such as search volume, competition, keyword relevance, and average monthly searches, etc. Using this data to find the right keyword for your business is the first and foremost step required for a successful e-commerce SEO strategy. A bonus tip would be to include the relevant keyword in your website's heading tags, as it helps in better ranking. How this works is that when a search engine spider crawls your page it first reads the HTML code and then it tries to figure out how to index your website for the intended keyword. So having keywords in the H1 tag will make search engines understand what your page is all about. It is also important to keep the keywords short and descriptive, ensuring a word count not exceeding more than 70 characters. Additionally, incorporating keywords in URL also helps in ranking and increases the site's search visibility. Apart from this, another important thing to avoid is keyword stuffing, i.e. the use of keywords multiple times unnecessarily. Keyword stuffing may result in getting penalized by Google or other search engines. The best practice is to place your targeted keyword in a natural and relevant manner in coherence with your webpage content, intended only to give your visitors a better experience.
Optimizing images for SEO
It is advised to use only high-resolution, compressed, and right format images for your e-commerce website as this also accounts for the ranking of your site. Also, make sure to rename your image and not keep it with the default name as this helps search engines to understand better what your image is all about thereby enhancing your SEO value. The next part is about the alt tag, which is used as an alternate text for an image in case the image is not displayed. This alt tag provides alternate information of an image. Hence it is important to add the right context/keyword in alt tags so that search engine crawlers can index properly.
Improving page loading speed
Page speed is defined as the amount of time taken for loading a webpage. Slow loading of pages on a website can be caused by several factors such as improper image compression, greater page file size, server inability to handle the load, etc. After 2010, page loading speed was considered by Google as a ranking factor. A slow-loading website will result in a high bouncing rate and thereby affect the ranking in SERPs. There are many online tools available where you can check your site's loading speed.
Create quality content for ecommerce SEO checklist
When it comes to content, Uniqueness, and quality matters. Using duplicate content is a strict no as your site might even get penalized by Google. If your website has good quality content, Google considers it worthy. Having dynamic content by replacing your old content with the new one often, alters Google index for your page and makes it crawl your page often. This makes your website more SEO friendly.
Title tags
Title tags are a clickable headline that is displayed on the result page. To rank better, your title tag must be unique, incorporating the target keyword, and a short description of your webpage constraining its length between 60-70 characters.
Meta description for ecommerce SEO checklist
Google or other search engines use Meta description as an abstract of the webpage, which is displayed below the title tags in search results. The Meta description contains explanations about the information on the webpage. Hence it is necessary to ensure that your Meta description is precise and relevant to your webpage, and also contains the targeted keyword placed naturally. Also, it is important to maintain a character length around 50-160 for Meta description. All these things if taken care will help in the better ranking of your website.
Create your online store mobile friendly
The usage of mobile devices has skyrocketed in recent periods. Nearly 75% of consumers use smartphones and it is expected to increase even more. Google has launched its open-source framework called accelerated mobile pages for creating websites that makes pages load faster and lighter. So designing your website to be responsive, mobile-friendly, and adhering to Google standards will help in better SEO ranking.
HTTPs for SEO
The latest Google algorithm for SEO states that, websites implementing HTTPs for transfer will have a minor SEO advantage. HTTPs encrypts information shared between the server and website. So implementing an SSL certificate for your website is advantageous as reports say that 85% of users will not surf [HTTP] unsecured websites.
Canonical tags
Canonical tags are used when you have the same or duplicate content available in various URLs. This is used for telling search engine bots, which version is the main one that has to be indexed.
Structured data is essential for all online businesses. These include organizing names, dates, stock information, geolocation, etc. For an effective e-commerce SEO, you must have a perfect structure of data as this helps in reducing the bounce rate and boosting SERP indirectly.
Website navigation for SEO
Website navigation is another important aspect to be considered for boosting SEO. When done properly your visitors can browse easily looking out for their requirements without any issues and also help search engines to crawl your website.
Final Thoughts
Hope this article has provided you with an insight into aspects that you need to be focused on when setting an online store. Once you finish implementing ecommerce SEO list, the next step is to start exploring the ecommerce website development process and approaching the right ecommerce website development company for your business. If you have further queries and need help in implementing SEO for your ecommerce website, please feel free to approach our expert team at Spidergems.