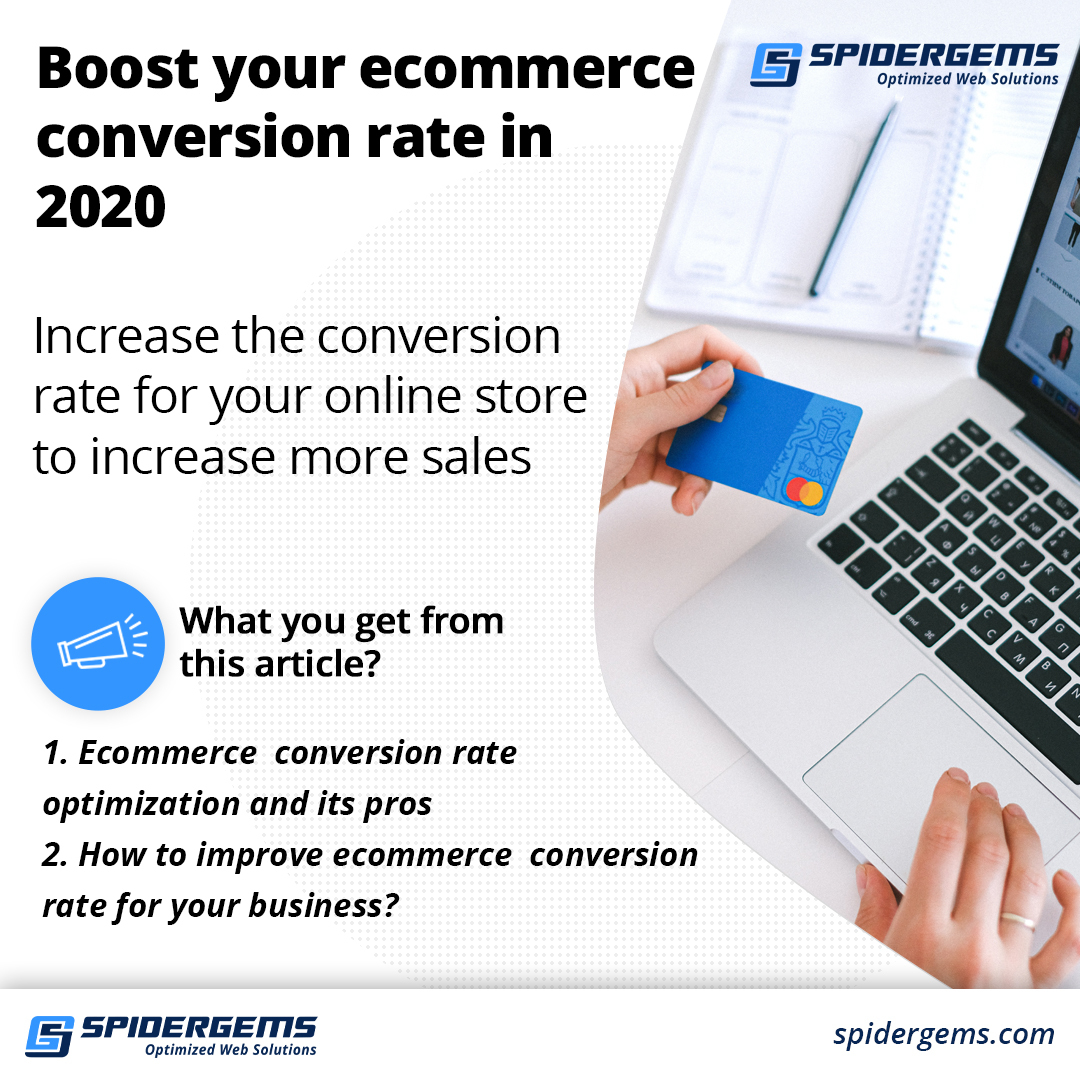 What you get from this article?
1. Ecommerce conversion rate optimization and its pros.
2. How to improve the ecommerce conversion rate for your business?
What is ecommerce conversion rate?
It refers to the ratio between the number of visitors landing on your website to that of the ones completing the expected online purchase. For example, if you have 100 conversions from 2,000 visitors, then your conversion rate is 5%,[i.e.] 100÷ 2000=5%.
Conversion Rate = Total number of conversions / Total number of visitors * 100
The ecommerce conversion rate helps in analyzing the visitors' movement on the website to focus on the areas that act as an obstruction for conversions to happen. In simple words, conversion here refers to encouraging your customers to buy your products.
Statistical report
Here are some statistics from the present ecommerce marketplace
1.The reports say that there are almost 1.3 million ecommerce websites in the USA alone! (the worldwide ecommerce Website count is little close to innumerable!).
2.The estimation revenue for the ecommerce market is expected to hit $4.88 trillion by 2021 globally.
3.70% of traditional marketers trust their present tactics which are ineffective.
4.53% of visitors may lose interest when website loading takes time (more than 2 sec) and this every single sec of delay in loading the page will ultimately reduce the conversion by 7%.
What is a good ecommerce conversion rate?
For any given ecommerce website, the average conversion rate is estimated to be around 2% to 5%. This can be doubled or more by following a set of right practices. A good conversion rate must be greater than 10% or more than your average conversion rate.
The below-given guidelines can be used for ecommerce conversion rate optimization and to understand the factors that fall in hindrance.
Discover your target audience
The First step would be, to identify who your target audience is. Because they are the ones who are more important in terms of sales of services or products from your site. The act of purchasing is more of an emotional choice, so we will have to understand what those emotions trigger which in turn translates to purchasing something. Hence satisfying a customer by understanding their requirements and rendering exactly what is expected is of prime importance.
Use high-resolution images
Make your product page vivid by adding high-resolution images displaying your product in the best possible way. This will have a good impact on visitors about your site and convince them for a purchase. Use a zoom lens to click from various angles to get the best possible image to show off your products. This helps a lot in converting your visitors.
Create dynamic content
The best way to keep visitors engaged in your site is by providing them with the exact data they are looking for. Have a dynamic content that is custom written. The best thing about dynamic content is that it changes based on visitors' geolocation. Suppose if any person from London visits your site, there will be geolocation related changes in the content such as displaying currency in pounds. This is because the site identifies the exact location and pre-populate shipping choice and discounts related to that particular location. This adds a personal touch for every individual visitor.
Page loading speed to improve ecommerce conversion rate
Page loading speed is a significant aspect of the user experience. It is important to verify that your website loads faster on any device as a slow loading page will hamper user experience and increase bounce rates. There are many online tools available like PageSpeed Insights , GTmetrix , Moz ,etc. to check for your website loading speed.
Use quality videos about your products
A quality video on your homepage describing your product and its benefits or a video explaining how to use or handle it will convince your shoppers to buy your products or services. Videos help in creating the look and feel of your products.
Effective use of Call –to- Action
Adding a Call-to-Action (CTAs) in an impressive, bold, and in an attractive manner will tempt customers to make a purchase or just click on that particular action. Also, impressive content, design, and colors in CTA matter as it can create a great impact on your potential customer's final decision.
Easy navigation process
Complex navigation methods will cause divergence in visitor's attention, and create confusion when they are looking for a particular product or service. So ensure that the link is easily redirecting to the pages the users are looking for without any issues.
Mobile-friendly website for ecommerce conversion rate
Ensure your website is mobile-friendly as 90% of people spend their time browsing on smartphones. Your conversion rates increase if your website is responsive and alluring in mobile platforms too.
Display special offers and coupons clearly
Showcasing special offers and coupons explicitly on your homepage is a tactic to impress visitors or users.
Multiple payment options
Convenience is the epicenter of any ecommerce business and if that is felt by users in your site it drastically improves the conversion rate. Integrating multiple payment options on your website is one way to achieve this.
Earning trust and quality service
Ensure that you are continuously working to improve the quality of your service or product by solving customers' problems as this has a great impact on conversion rate. Earning the trust and providing prompt service will make your online business robust. Do not give false promises or misreport about your brand. It always pays to be honest in marketing.
Offer free shipping or lower cost
A survey claims to have noted that there was a drop in conversion rates. when shipping charges were included. Another trustworthy statistical data estimates that 55% of buyers leave shopping carts due to the presence of shipping costs. Be clear about your pricing. You can offer free shipping on bulk orders or can provide legit offers in association with the shipping companies.
Testimonials and product reviews
Customer testimonials and product reviews are one of the most powerful strategies to create trust in your brand and help in triggering customers to make a purchase. Encourage and guide your loyal customers to leave product reviews online. More importantly, ensure adding testimonials on your homepage or product page rather than randomly placing it on your website. Effective testimonials must be specific about the product being reviewed and self-explanatory.
Make customer service easily accessible
Though your website covers all information a shopper is looking for, they might still have some queries while placing an order. This void that a customer feels may lead to Conversions rates drop. Ensure that you have adequate customer service offerings that can be easily accessible by them. Examples of such a service could include live chat, phone, and email support.
Simple checkout process
Create a checkout process that is simple and convenient for customers rather than making it lengthy and complicated. With a simple checkout process, buyers can have a hassle-free shopping experience.
Final thoughts
We hope this article has given a clear understanding of how you can increase conversions rates on your ecommerce site. Following these guidelines and building upon them will surely increase your ecommerce conversion rates. Spidergems is one of the top ecommerce website development company in Chennai. We design user-friendly ecommerce websites with rich features that can bring a seamless shopping experience to your customers.