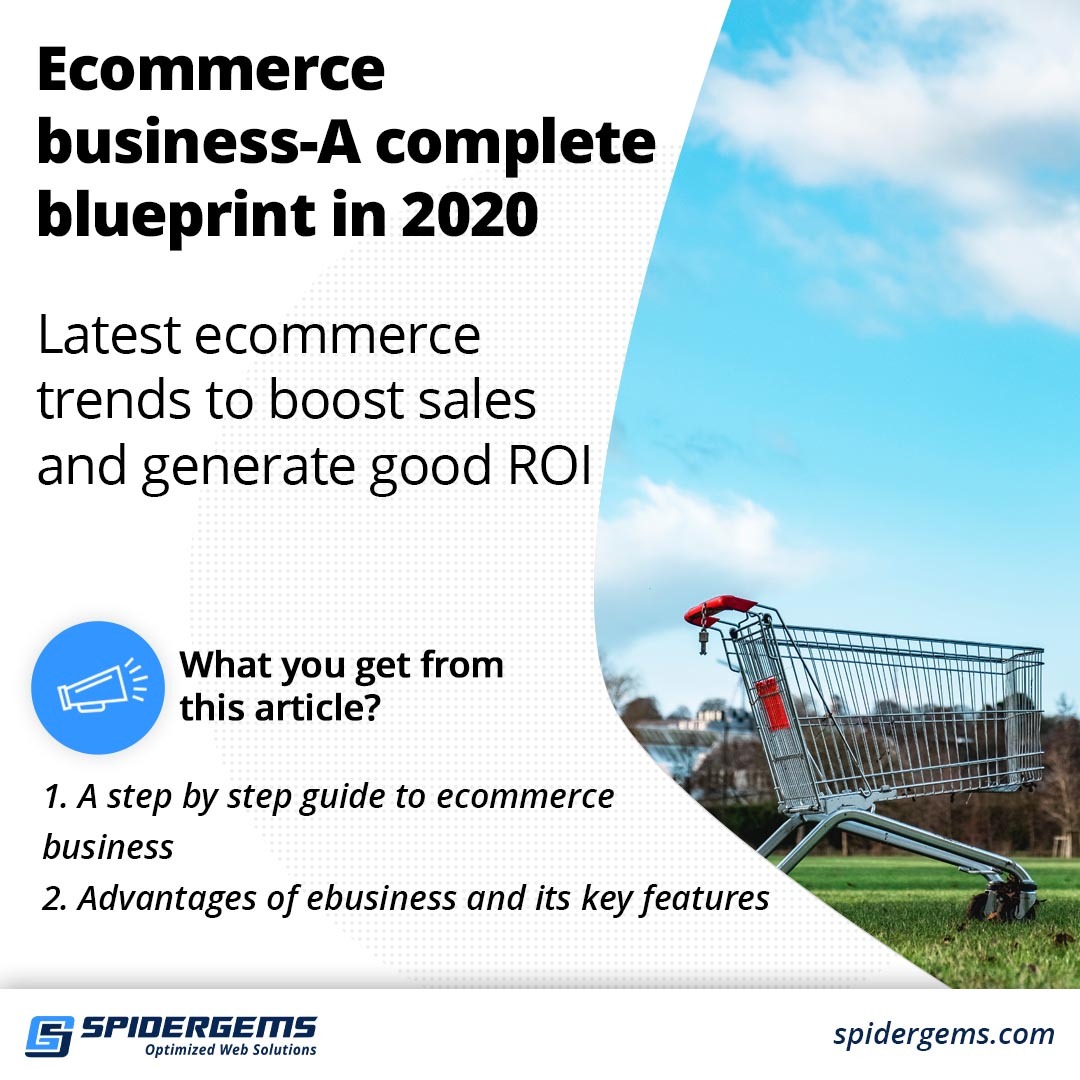 What you get from this article?
1.A step by step guide to ecommerce business.
2.Advantages of ebusiness and its key features.
Top advantages of ebusiness
Staying Competitive in the business
Low Cost
Great potential turnover
No geographical constraints
Easy to display bestsellers
Personalized Internet experience
Reaching new consumer
Easy to retarget your consumer
Capable of processing more number of orders
Able to scale the business rapidly
Variety of traffic Streams
Speeding up the purchasing process and saving time for consumer
Able to render detailed data to the consumer
Render flexibility to the consumer to purchase things 24/7 service
Avoiding human error while interacting with the consumer
Easy to obtain consumer data
Understanding customer requirements
Easier to motivate and create an impulse purchase
Improve quality service
Different classes of ebusiness
The top six ecommerce business models are,
(B2C)-Business to consumer
(B2B)-Business to business
(C2B)-Customer to business
(C2C)-Customer to customer
(B2A)-Business to administration
(C2A)-Consumer to administration
A statistical report shows that 40 % of global internet users have bought goods and services online through a desktop computer, tablet, mobile phone, and other smart devices. This amount can be more than one billion online shoppers and is expected to be ever gro,. And by 2020, it is estimated that worldwide ecommerce business would be a $27 trillion industry.
Step by step process for setting-up online store
Deciding the right business plan and models
The first thing you need to think about is narrowing down on the right business plan and models. There are two business models available such as a single vendor or a multi-vendor ecommerce store. You can choose any business models based on the budget you have set for your business.
Single-vendor marketplace
The benefit of having this kind of business model is that it includes only two entities. It is all about a single seller, selling product, and service to multiple consumers. Also, it's quite easy to track transactions between the two entities. Administrative costs are lesser as it involves only paying to just one supplier; plus you will have better control over the inventory.
Multi-vendor marketplace
A multi-vendor marketplace refers to more than a single buyer and seller initiating or regulating transactions. The multi-vendor marketplace users get benefits from seeing a different choice being showcased on a single website. This allows in providing the best quality or a reasonable cost for different products. The users will get a chance of comparing products rather than visiting various websites.
Discovering a product you are going to sell
The first step in creating an ecommerce business is to make a list of products that you intend to sell directly to customers. This is quite a challenging part when beginning a new online store. Research trending products to consider. Once you have a strong product idea, the next step is identifying where and how you are going to launch your products. Also, it is important to research and analyze the competition for your product and how you're going to differentiate your business. After your competitive research is done, it's the right time to make a plan for your business. It will be your blueprint in initiating your ideas and thoughts together. A right business plan plays a vital role in knowing what is important and how effectively to reach the target audience.
Choose your brand name
Once you have decided on what online business you are going to start with. Then you can proceed in choosing a brand name for your business. Ensure while selecting a brand name it should be easy to remember, unique and alluring.
Securing your domain name
Preferably, you will receive your business name as your domain name, but in case of unavailable, pick a URL that's easy to spell and connects to your business. Suppose if your business is happy art Creations and happyartCreations.com isn't available, try for something alternative like happyarts.com
Next, you will have to register your business under this legal structure
Sole proprietorship
General partnership
LLC
Corporation
There are pros and cons to each of these kinds of entities, so it is advisable to consult an attorney or legal professional for suggestions for the right choice for your business.
Employer identification number and business licenses
The next step is getting an employer identification number (EIN) for opening a bank account as well as for taxes. Your EIN is like a social security number, that unique number defines your business and also assists in filing the necessary paperwork. If you plan to function as an e-business, that doesn't cover certain licenses and permits then you need to verify with your city, state, and country to know what kind of sales tax licenses are needed to get approval for your business.
This is a competitive sector, Hence smart work must be done to analyze quality products for your business that you intend to sell. Find the right vendors to do your business in the long-term.
Must have important features and effective tips to run your online business successfully
Build an engaging user experience web design
Selling the best product and good customer service for your business alone does not ensure success. It is equally important to have a robust online business appearance. A report says, 93% of shoppers believe visual appearance to be the most significant aspect when making a purchase.
To build a profitable online shop, you can either hire a web designer or can approach an ecommerce web development company. Well, alternatively, you can try for a ready-made template and customize it as per your requirements. Moreover, there are thousands of awesome templates on the web offered by sites like TonyTemplates , TemplateMonster, Apollotheme, etc. that have clean designs and intuitive layouts.
Offer excellent customer service
Providing continuous support throughout the stages of the purchasing experience, will encourage new shoppers to create their first purchase and return consumers to making future purchases.
Make your customer service features, like a phone line or a chatbox, legibly visible on your e homepage so that shoppers will be aware of those services.
Render multiple payment options
Provide multiple payment options for your consumers, so that every consumer can make their purchase hassle-free on your store.
Make use of social media platform
Using a social media platform for advertising your products and services is a great way to interact with your potential customers. Keep tracking your social media analytics and plan accordingly to improve your future promotions.
Blog posting
Blog posting creates an opportunity to drive more traffic to your site. Posts with SEO keywords along with valuable information for customers are helpful to rank better in search engine results. Blog posts that rank high will motivate customers to visit your site and initiate purchases.
A blog is like a medium to get connected with your audiences on a deeper level. Analyzing how people respond to the content that you deliver can help tweak your tactics for meeting buyers' requirements. Blog posts create shoppers' trust when they render some kind of value to the reader, like providing expert advice on usage of the product or an industry-related topic.
Positive product reviews can create trust among buyers
Online product reviews and ratings can increase your trustworthiness to a greater extent. Online buyers can't meet sellers' in-person, so they go ahead with other shoppers' feedback or comments to evaluate merchants.
To encourage more feedback or comments about your product, don't hesitate to ask your consumers to write a review after completing their purchase. Educate or guide your consumers to share their positive experiences with others.
SEO-friendly website
For online stores to get engaged with more traffic and also purchases to happen SEO plays a major part. By including SEO keywords into product titles and descriptions, boost your website to rank top in search engine results. Enhanced visibility is the prime ingredient for boosting site visits and a huge conversion rate. Use SEO tools that help you to identify keywords that have good monthly search volumes for your website to rank better.
Mobile responsive website
The smartphones usage has been increased in recent years. Having a mobile responsive website can bring benefits to your business. So ensure that your website is mobile optimized so that buyers can feel comfortable while making an online purchase no matter what device they are using it. Moreover, mobile accounts for nearly half of the web traffic globally.
Below are a few proven tips for verifying your website is mobile responsive
Choose vertical designs rather than horizontal designs for scrolling and viewing your content easily over mobile screens.
Also ensure your website loads quickly, because a slow loading site leads to a low conversion rate plus a high bounce rate.
There are few online tools available to check your site loading speed.
Keep tracking of analytics
Online shop owners can't enhance their growth tactics without monitoring their progress. The best way is using the Google Analytics tool to track your selling activity as well as consumers' behavior. This Application helps sellers by providing crystal clear information of their online store which includes data such as the number of visitors from different places, the number of abandoned shopping carts, and the percentage of product sales. Keep tracking of selling metrics with Analytics so that it would be helpful to form long-term insights on how to keep consumers engaged more effectively and also encourage more purchases.
Provide free or special offers for shipping
Sometimes shoppers may leave your site without purchasing because of the high shipping price. So it is better to offer free or some discounts for shipping based on the products or items they purchase. Highlight special offers or coupons in your online store to encourage your shoppers to keep shopping.
High quality pictures
High-quality images that highlight the products' information should be used to impress shoppers without losing their attention.
Allow a 360-degree image tool on product pages so shoppers can see the complete view of a product.
Allow a zoom feature on product images so that shoppers will be able to check your items in detail.
Encourage your consumers by rendering incentives
Online shop owners do not have to limit what they can incorporate on product pages or in interaction with shoppers. Merchants with stores must take advantage of this control by providing incentives to shoppers. By Placing a pop-up special offer on your homepage or by sending a promotional email of your new sales, dealers can actively reach out to shoppers with various kinds of incentives to initiate purchases.
Email marketing campaigns
Email marketing is one of the best ways for merchants to build good relationships with their consumers. Merchants can dispatch targeted messages to a section of shoppers that address each group's specific needs. By attracting consumers' interests, email marketing is a great tool for boosting sales and enhancing revenue.
To begin with email campaigns, you are required to gather the emails of buyers and get a consent that they wish to get messages from you. There are more opportunities to request your shoppers whether they wish to receive email notifications like the checkout process or in a pop-up window when they're surfing or visiting your site.
Use an email marketing tool to monitor and track your messages that are delivered successfully and to check how many times it was opened and the links that are clicked often.
Refund and money-back Policies
Vendors can create customers' trust and incentivize purchases by providing generous returns and money-back guarantee policies. Enabling consumers to return an item for some reason like damages or it doesn't meet their expectations or doesn't look at what they have seen on the product page can make customers trust your business.
Final Thoughts
I hope this article has provided crystal clear information about how to set up and run an ecommerce business effectively. No matter what your online business is, the key factor is interacting with your customers by understanding and satisfying their requirements plays a major role. Plan the right ecommerce marketing strategies to increase your brand awareness and also ensure that your website is impressive, mobile responsive, and SEO-friendly to drive more traffic and boost conversion rate without any hindrance.