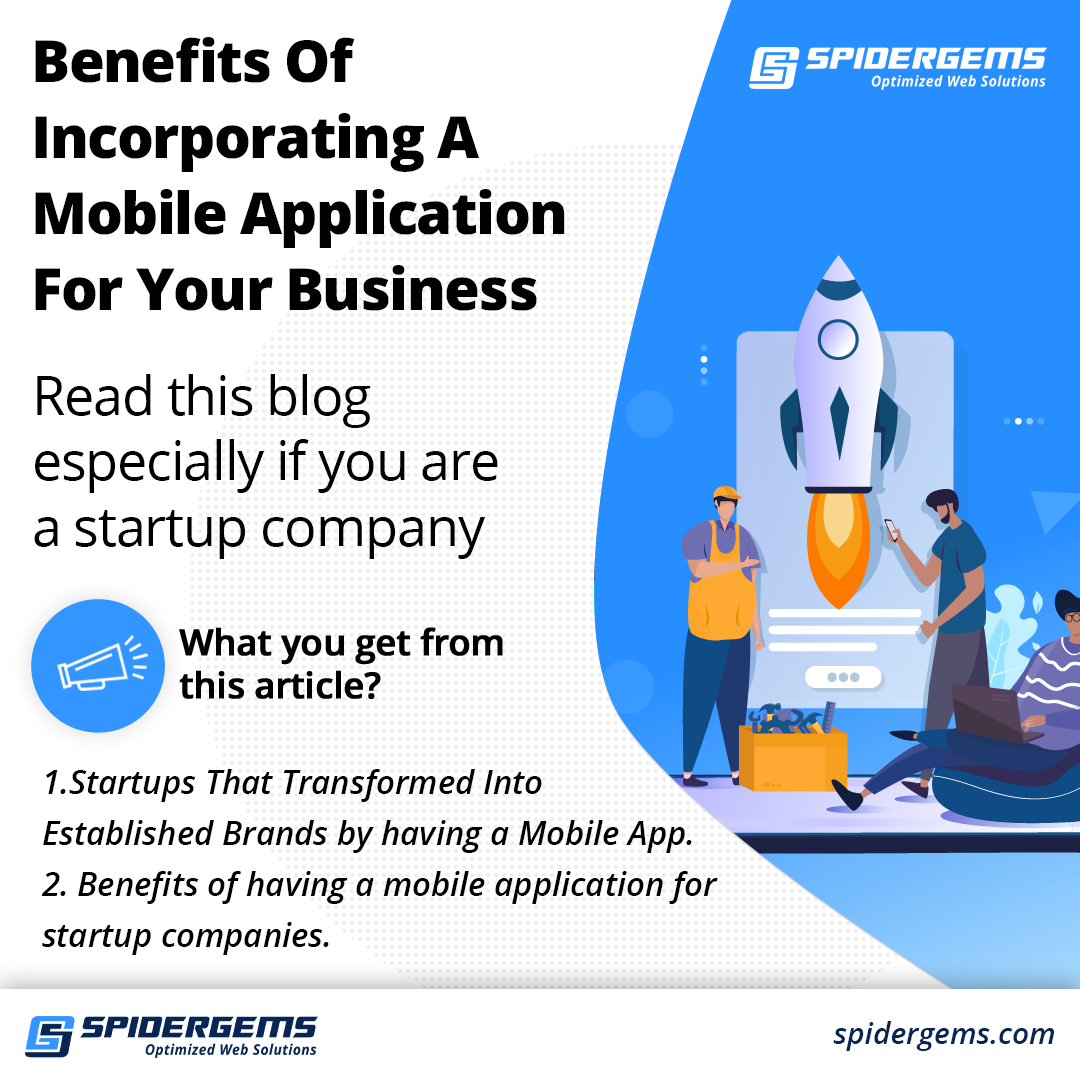 What do you get from this article?
1.

Know the Startup Companies That Successfully Transformed Into Established Brands by having Mobile Applications.

2.

Benefits of having a mobile application for startup companies

.
Startup companies that successfully transformed into established brands by having mobile applications.
Benefits of having a mobile application for startup companies
1. Used as a promotional tool
A mobile application works as an incredible promotional tool as it retains your customers by keeping them instructed about your current contributions and new contributions in actual time. Generally, a business without a mobile app will have to spend more on promotional activities. Wherein, a business having a mobile app will enjoy promoting its business through a mobile app at an affordable cost.
As the applications for mobile businesses are purpose-built, keeping the required conditions in mind, it acts sort of a comprehensive application performing different features. It takes back the need for many applications. Besides, as these requests are customised to suit a specific working style, it promotes worker efficiency and business Return On Investment (ROI).
3. Connect with your customers fast and easy
If there's one thing that significantly influences customer satisfaction, it's how quickly, and easily accessible a business is. At times, the significant difference between a conversion and lead is the support's response time.
If you're looking to deliver the best communication speed possible for the customer, you must need a dedicated mobile app. Unlike websites and other channels, a mobile application is much more reliable, personalised, and easy to use.
The brands that make their mobile app for the business confirm that they're visible to their end-users, building a reliable brand to recollect. It allows them to exactly 'be there' right when their customers require them.
5. The brand is well recognized
No matter if your business is old or new, you can enhance its recognition using a mobile app. Create an app with exciting features, and you will mesmerise your audiences.
Find a way to get your customers engaged in your app regularly. The more frequently they interact with it, the more they will like the products or services it sells. It states that if customers see your brand more than 20 times, then it gets noticed. You can even get third parties and referrals by having a mobile application. Studies show that referral and third-party sales are among the most valuable marketing strategies.
6. Gain a competitive edge
In this digital era, keeping up with the competition is always challenging. Though there are various factors to keep track of, a mobile application gives you a vital competitive edge. Research into the role of mobile applications in enterprises suggests that.
Considering how an efficient mobile strategy improves your business workflow, its overall effect on your revenue generation will become evident. Nowadays, going mobile may go beyond having a competitive edge. In various industries, you may need it to even keep up with the competition.
7. Increase customer engagement
One of the essential ways to increase brand loyalty and revenue generation is to focus on your engagement level. If you successfully boost how consistently customers engage with your brand, you'll experience an increase in your customer's lifetime value, Return on Investment, and other essential challenging metrics.
For mobile app owners looking to boost their engagement level, there are certain features you may want to include in your application. Perhaps the most important is segmented targeting. This involves creating multiple user categories and also controlling the type of content delivered to each user segment. User segmentation allows you to send personalised in-app messages, provide accurate user recommendations, and better understand your average customer's journey. Other in-app elements that may assist achieve higher engagement levels include loyalty programs, discounts, and continuous feature upgrades.
8. Provide your customers with value
Customers are interested in valuable services and products. With many outlets offering the same products, it can be difficult for them to decide. A mobile application can nudge consumers to your store. For instance, you can use an area-sensitive push message on your application.
When any clients walk near your store's physical location, they get a notification inviting them to your store. Curious shoppers will come to your store to see what you have to offer. This approach has been practised for many businesses. In addition, send a thank-you notification to your clients after making a sale.
9. Better customer service
Customers get the chance to serve themselves. Embedding an intelligent, easy-to-use help centre into your app can be an intelligent way to help your customers find solutions to their queries as fast as possible. Also, with increasing customer service expectations, a mobile application can significantly reduce the pressure on your employees. You can improve your overall customer experience.
Many times, the best way to deliver the best customer service is to ensure that few or no issues arise. Data from your application can assist you in tracking potential problems or questions before the customer faces them. However you consider it, a well-implemented mobile application is always good news for customer service.
10. Provide unique services and features
Mobile apps come with many kinds of features that match various industries. For instance, if you are within the service industry, e.g. healthcare, online food retail etc., your mobile application can be helpful for your target customers to book an appointment. Then, push notification can be often used to remind them or update them on their appointment. Mobile payment has become an intelligent way of making payment nowadays. Both small and big businesses can incorporate payment features into their mobile app, which would receive direct payment via credit and debit cards. These payment platforms are user-friendly, fast, stable and secure.
11. Utilise social media platforms
Engagement is the driving force on the internet. The more time people spend engaging your applications, the better improvement for your businesses. When it comes to engagement, there's hardly a better option than social media. To integrate your applications effectively with social media, you can consider promoting them on these platforms as your first port of call. For this, you'll need excellent social media campaigns.
Running social media campaigns on platforms such as Facebook, Instagram, and YouTube is a great way to get your mobile application all the attention you want immediately after the launch. Once you get the needed downloads, encourage new users to sign up with their social media accounts. This way, social media sharing will be effective in the future. You can also boost user engagement by incorporating the app with social media feeds. The major development companies offer this as an additional feature.
12. Complement your website with mobile app
An excellent website attracts new customers. A mobile app creates customer loyalty. A website needs clients to open a browser and enter the URL of the website. On the other hand, all mobile applications only require a single touch on a device's screen. A website is a great platform to offer various information and post content such as copy, videos and photos. But, it may not enable the two-way communication that an app boasts.
13. Increase accessibility
Another significant benefit of mobile apps is that it improves business accessibility. It allows businesses to send push notifications about what is new or what has changed in their services or products. It will enable companies to build a strong relationship with customers, which would allow the development of a genuine customer base and intense loyalty. Businesses may also establish strong bonds by offering special discounts for old customers all within the mobile app.
"
Does every business need a mobile App?
Suppose you have a vision of giving your business a competitive advantage, giving customers more convenience to buy your product and reach more customers efficiently, wanting to take a quick return on investment. In that case, your business deserves a mobile application.
"
You have listed a lot of benefits above, but in any case, have you missed any?
"
You will get more benefits than listed. You can receive customer feedback quickly by having a mobile application at no cost, and also, you can reach more customers rapidly by having a mobile application. For example, if you announce an exclusive offer to your customer by having an ecommerce website, you will end up in minimal reach, even though you may have run a massive ad campaign. But by having a mobile application, you will have the liberty to reach more people without using these ad campaigns.
"
I am just a startup company. I can't afford these expensive mobile apps!
"
I would say it is a complete myth that is spreading all over. Based on agile methodology and analysing your requirements, we can develop your mobile application affordably.
"
After having a mobile application for my business, maybe I will want to hire a technical team in future that will be expensive
."
Not at all, because once we have developed a mobile application for your business, you can hire our technical team on a contract basis to work for you at a minimal cost. Since we have developed the mobile application, we will take care of any bugs or issues.
"
There will be too much maintenance cost for mobile applications, which I have to spend every month.
"
Every mobile application needs proper maintenance. But based on your business model and the features in it will determine your maintenance cost. And finally, not every mobile application will require monthly maintenance. Even some mobile applications may require only annual maintenance.
Final thoughts
Are you looking for profitability in business or wanting to take a quick return on investment?
Then you would require a mobile application for sure. Spidergems is a leading mobile app development company in Chennai, providing mobile applications integrated with the latest features at an affordable cost.
If you are a startup and worried about the expenses charged for launching a mobile application?
Take a step forward and collaborate with us. We will make your decision worth it.