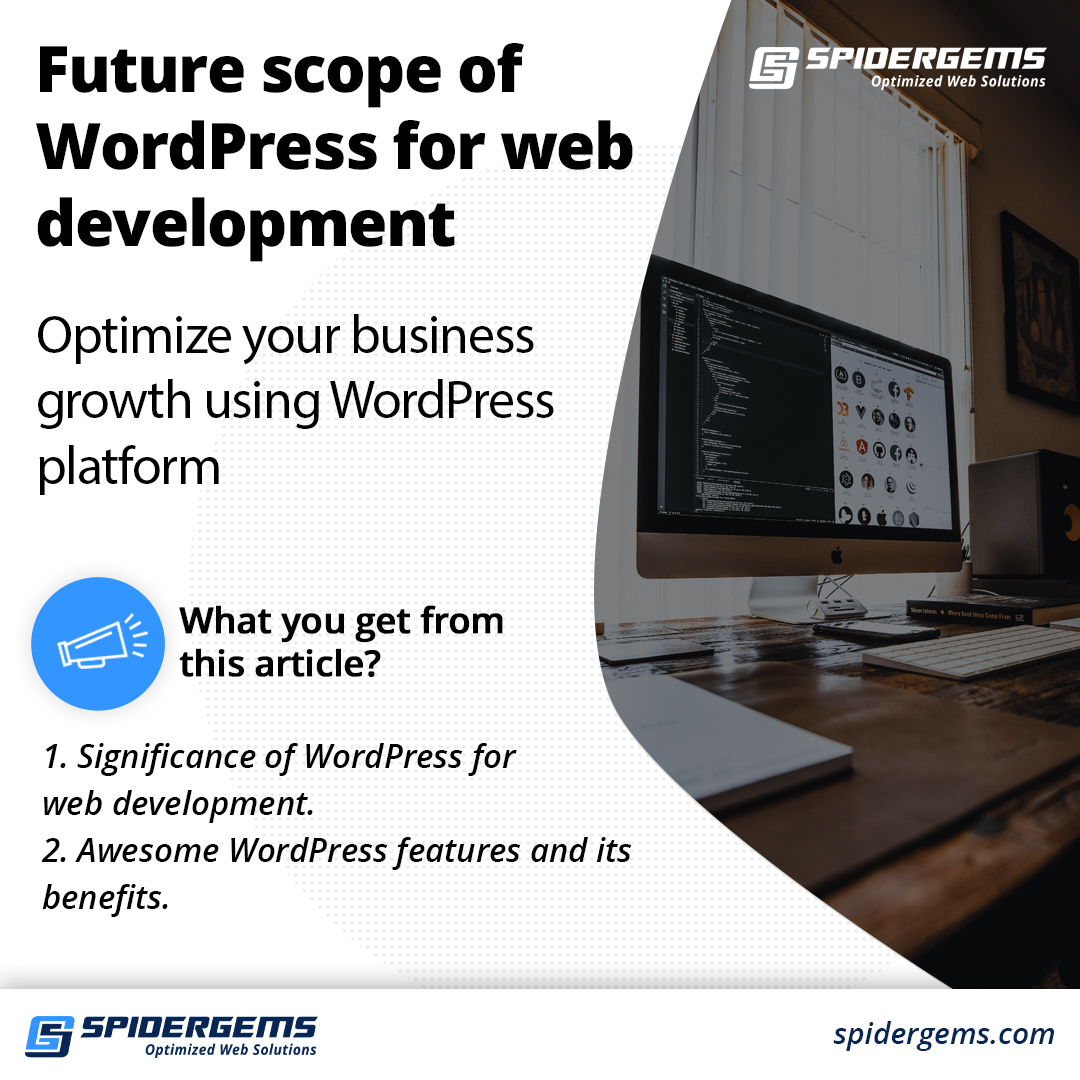 What you get from this article?
1. Significance of WordPress for web development.
2. Awesome WordPress features and its benefits.
Extensive WordPress Benefits and its Features
Cost-effective
It is a user friendly and open-source software where you can easily customize it based on your requirements. If you implement word press then, the only major task to do when you are starting the website is to purchase a domain name and select web hosting that is the right fit for your business.
WordPress has a vast collection of free plugins and themes. Based on your business needs, you can select one of the free themes. And also you can install some free plugins to improve the functionality of your theme.
User-friendly WordPress for Web Development
If you wish to build a portfolio website or an ecommerce website through WordPress you can create it with ease. Without any extra requirements of HTML coding, it is possible to create, delete, or edit any pages or blog, and even upload documents, video files or images, etc. As it is browser-based, you will be able to manage a website or do corrections in posts or pages with internet-connected devices like desktop, laptops, tablets, and even with mobile phones.
In recent times, the usage of mobile phones has skyrocketed compared to desktop or laptops. It is required that your website must be versatile to adapt to different devices. A user would not prefer to visit a site that is non-responsive or unable to adapt itself according to the device. Your website must be responsive and mobile optimized. Website responsiveness is a prime factor for Google rankings, and hence using WordPress theme for creating a website will automatically get you the advantages of responsive websites.
WordPress renders the best user experience and provides the flexibility to be tuned to show adaptability according to visitors from various parts of the world coming to your website.
WordPress for Web Development-High Security
Security is a top priority for WordPress. Its repository renders only plugins with high security, which protect your website from hackers. It is known for its built-in rock-solid safety measures which make sure that your site is free from potential risk. Updating the themes and plugins in your site will assist you to keep your site's security even more solid.
Search Engine Optimization (SEO)
When it comes to SEO, WordPress also renders the best SEO plugins that can make your site rank higher in search engine results. Important aspects of a website such as responsiveness, optimization, and easy navigation can be simply achieved with the help of WordPress. SEO plugins like Yoast SEO and XML Sitemap can help your website rank high in the search engines.
WordPress for Web Development-Loading Time
The loading time of your website plays a key role in ranking your website better in the search engine results and helps in impressing your visitors. So, to improve your website loading speed you need to have a good web hosting plan, fast DNS servers, and a CDN. A CDN will make your site load faster irrespective of the location from where it is accessed. Choose an advanced, quick, and responsive WordPress theme that is the best fit for your requirement and also avoid using too many plugins. In addition to this, utilize an image optimizer with a cache plugin.
Irrespective of your business vertical, engagement on social media networks is a good way to promote your business. The social media integration plugin in WordPress helps website owners in sharing their business information on social media platforms which is an important way of driving more traffic to your site and building credibility.
Multi-Level User
WordPress renders a multi-user management system that determines what a particular user is allowed to do on your website. To maintain the website up-to-date, organizations need the support of multiple people for different tasks such as a new post, proof-reading the post, publishing, etc. In such a case, WordPress provides a multi-user facility to make it easier for you to allocate various roles to specific users. WordPress has default six user roles such as Admin, Author, Super Admin, Editor, Contributor, and Subscriber. Administrator – Has full access to your website.
Editor – Editors will be able to manage, publish posts or pages that are created by another user, and also be able to manage category, comments, and upload files.
Author – The author will be able to manage, publish their posts, and upload files.
Contributor – Contributors can manage their posts but cannot publish.
Subscriber – Subscribers are only able to edit their profile.
Super Admin – Super Admin role is obtainable only in WordPress Multisite Network.
The advantage of creating your site with WordPress is that it enables you to integrate blogs into your website effortlessly. WordPress is a great platform for blogging because it has a pre-blogging configuration that renders multiple selections like categories, tags, author, widgets, spam solutions, media, email subscriptions, etc. Creating and updating your blog regularly on your website will make your site rank higher in search engines.
WordPress for Web Development-Rapid Installation
WordPress has an intuitive backend, so you don't require any technical person to create or manage your WordPress site. Free video tutorials are available online that can help you to fix any technical errors while installing WordPress. The web hosting feature provides one-click installation of WordPress, avoiding the need to download the WordPress installation files and use an FTP server to load them. Instead just log-in to your hosting provider's control panel, then "Install WordPress" and within a few minutes, your WordPress site is completed. After this, you need to select the right themes and plugin based on your requirements and customize the website.
Thousands of plugins are available in WordPress plugin repository that enables the user to include some latest features to their WordPress site such as adding an adorable image/video slider, payment options, optimizing the pictures, including some discount coupon, etc.
Users can even install or buy some custom plugins from third-parties based on the website requirements. At any given time, based on your needs the plugins installed can be activated or deactivated. WordPress is designed in such a way, that complex tasks are solved at the click of a mouse.
WordPress for Web Development-Scalability
Scaling-up your WordPress site is simple. Thanks to web developers who ensure that WordPress enables you to make your own website's network, quick and simple and time-saving.
Final Thoughts
Your website plays a significant role in your online appearance. Always ensure it represents your brand's credibility. Whether you are a new website owner in the market or planning to redesign your current site, just consider using WordPress as it provides tremendous benefits. At Spidergems, we are rendering complete solutions for WordPress development services for all business verticals across the globe.