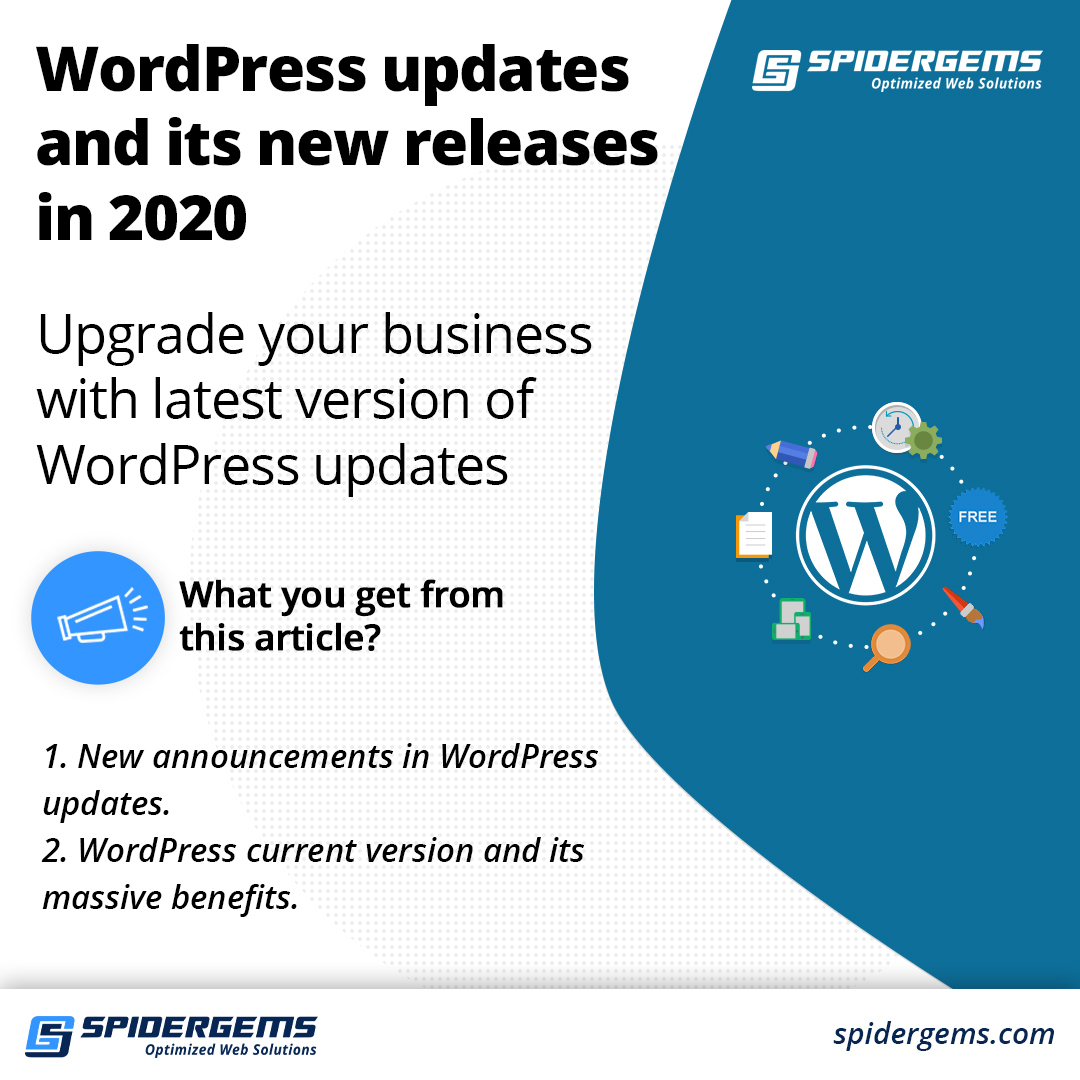 What you get from this article?
1. New announcements in WordPress updates.
2. WordPress current version and its massive benefits.
WordPress current version
By checking the current WordPress version that is functioning on your site you will be able to know if an update is available to be installed. The same applied to themes or plugins as well.
The latest WordPress version available is shown on the bottom right side of the page.
On top of this on the admin page, the current version of WordPress is displayed on the dashboard.
WordPress latest Version-Is it mandatory?
WordPress updates, particularly the latest version of WordPress 5.4, introduces new features upon improving the existing ones.
Here are a few important reasons why you should update to the latest version of WordPress plugins or themes for your website to run it effectively.
1.Updating your website is necessary to secure your website against vulnerabilities detected by the WordPress team.
2.The current version of WordPress has bug fixes that help your website to run seamlessly without any issues.
3.Through each new update, WordPress focuses on better outcomes in terms of performance, usability, and extendability. By keeping the site updated, the site proprietors get the best available version of WordPress.
List of block editor's features and alterations in the latest version of WordPress 5.4
Welcome popup in WordPress plugin
In WordPress 5.4, you can see a new welcome guide pop-up that renders small guidelines to the users about the Gutenberg editor. It's like a presentation that explains the Gutenberg block editors, block library, and recommendation to the official docs.
The model initially shows up after updating WordPress 5.4, but it can be called whenever required by clicking the menu which is on the right top corner of the editor.
Social icons block in WordPress update
Social icons block, which is now fixed in Gutenberg, enables users to put social media icons to their posts and pages easily. This can be selected from a wide collection of over 40 available icons, and one can add this to the block and use it for liking. Out-of-box, social icons have three basic shapes to select from such as default, pill-shaped, and logos only.
The new buttons block available in updated WordPress replaces the single button block which enables website owners to include multiple buttons to their posts and pages. It is also possible to opt between the button types, font, background color, and gradients.
Video embed block in WordPress update
The latest version of WordPress 5.4 , has an embed block for including videos from famous social media apps for making short videos.
Improvements in color options
Another best reason to update WordPress 5.4 is the color selection. We can now add inline text color for rich text blocks simply by choosing any words or context and changing their colors through the handy color picker. No HTML mode is required for this. It is also possible to set a block group of the background color. Additionally, gradient backgrounds will also be available in other blocks like columns, buttons, cover, and groups.
Betterment in image handling
A set of new improvements in image handling have arrived. In WordPress 5.4 pictures can be moved through a drag-and-drop menu to the featured picture section. The advance post block currently aids the featured images. The gallery block enables users to adjust the size of the images.
In the latest version of WordPress 5.4, Gutenberg opens in the full-screen mode. Shifting the modes is also possible from the right top menu. Developers can manage the fullscreen mode using simple lines of JS code.
Gutenberg performance better in WordPress update
Yet another commendable change in the latest WordPress block editor is that, compared to 5.3 versions, the loading time has decreased by 14%.
Enhancement in website health
To ensure that the performance of your WordPress site is smooth, secure, and quick, the WordPress team has initiated an updated site health network. The advanced widget on the site's admin dashboard displays the site health features and notifies the possible problems. A CTA button manages additional information for you and fixes issues.
Accessibility enhancement in the WordPress 5.4 admin
Accessibility is given prime importance in WordPress 5.4. This includes multiple things that can make the admin dashboard even better:
Better keyboard navigation in the media items
Possible to change the picture title in the Image block
Improved multi-block option
Better and clear state management
Improved Privacy Policy Guide's readability
Tabbing assistance in the block's sidebar
Final thoughts
Are you ready to see this entire enhancement on your website? Updates into huge releases must be performed carefully, specifically on websites that have a lot of custom functionality built into it. For any further queries or assistance, you can approach our WordPress maintenance team at Spidergems. We will assist you to update your site to WordPress 5.4 and relish the benefits in a smooth transition.