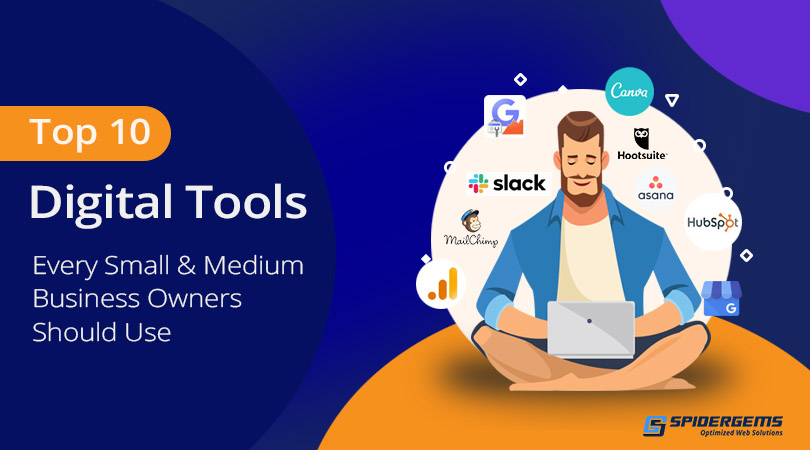 It's essential for any business to be equipped with the right set of tools to improve the management, streamline the workflow, and gain the competitive advantage of your rivals.
Fortunately, some of the best tools that make managing a business easier and take it to the next level are available for free.
Here is a collection of some popular free digital tools designed to help businesses in many different ways. They will help you to streamline your workflow, automate various processes and carry out specific tasks more efficiently.
1: Hootsuite
Hootsuite is a social media management tool. It helps you to manage and keep track of all your social networking channels in one place. Here is a list of things you can do with Hootsuite.
What You Can Do
View the post stream from social media websites like Facebook, Twitter, and Instagram
Publish or schedule posts on all your various social media accounts from one place
Comment under various posts and respond to the comments under your posts
View brand mentions on various social media channels
Create a team and assign various social media management tasks to team members
Why Use It
Single login to manage all your social media profiles
Post same content across various social media simultaneously
Free plan available with basic features
Measure the success of content accurately with easy to understand analytics reports
Save time by scheduling posts
Get an organized view of the public conversations and private messages
Outcome
Hassle-free social media management
Better team coordination in social media management
---
2: Mailchimp
Mailchimp is the most popular email marketing tool. It allows you to send promotional emails to a huge audience easily.
What You Can Do
Send personalized emails to your email subscribers with one click
Send automated emails like abandon cart notification and product suggestion emails from your online store
Monitor the performance of email campaigns
Why Use Mailchimp
Free plan with attractive features
300+ app integrations to scale
Create campaigns quickly
Massive free educational materials on Mailchimp
Outcome
Increase sales through lead nurturing email campaigns
Get a better insight into the target market by observing their engagement with the emails you send
---
3: Hubspot CRM
Hubspot is a customer relationship management (CRM) system.
It allows you to build a centralized information system of all your contacts, leads, customers, vendors. You can add notes and to-do notes for each contact. It allows you to keep all information and notes about all your contacts well organized.
What You Can Do
Categorize contacts based on the sales funnel
Enter notes about contacts for future reference
Email marketing
Customer supporting and ticketing system
Schedule meeting/call with contacts and get notification
Why You Need It
Sales funnel/sales pipeline overview with clean dashboard
Get all the information about a contact from the list quickly
Gmail and Outlook integration
You can refer all information about the past engagements with a contact quickly
The service team can refer the notes entered by sales person about any customer
Outcome
Centralized database or information system of all your customers
Hassle-free customer information management
Better collaboration among the team members with a centralized system
Email marketing becomes easy
Customer support becomes easy
---
4: Asana
Asana is a project management system and task manager
It allows you to create projects, create tasks under each project, set deadlines for them and mark completed tasks and projects. So, it helps you to keep track of the progress of your projects.
What You Can Do
Create Projects
Create tasks under project and sub-tasks under tasks
Assign tasks and subtasks to team members
Set deadlines for projects, tasks, and sub-tasks
Mark completed tasks
Set goals and keep track of progress regularly
Why Use It
Project management becomes easier
View the progress of the team members
Simple and intuitive user interface
Outcome
Get project progress overview anytime
Better team collaboration
---
5: Wunderlist
Wunderlist is a task management application that allows you to create checklists and to-do lists. It helps you to keep track of a list of things you need to do.
What You Can Do
Create tasks
Star important tasks
Mark tasks as completed
Delete tasks
You can add descriptions for tasks
Why Use It
Wunderlist is a simple and clean tool
It can be integrated with other popular tools like Slack
---
6: Slack
Slack is a team communication tool. It organizes team communication and improves team collaboration.
What You Can Do
Create a workspace and add team members
Team members can create channels (groups) and add other members
Sharing files and documents made easy
Video and audio call with team members
Group call and screen sharing on paid plans
Why Use It
Slack organizes team communication
Integrate with hundreds of popular tools like Asana, Dropbox, and Google Drive
Outcome
Efficient team communication
Efficient team collaboration
---
7: Chatbots
Integrating conversational chatbots on your website can provide a better experience to your customers. It helps you to guide visitors through a conversation path based on their requirements and collect their details easily.
What You Can Do
Interact with website visitors
Collect details about the website visitors
Why Use It
Provide conversational experience similar to your website visitors
One chatbot can manage thousands of visitors at a time
It works round the clock
Outcome
Convert more visitors into leads
Improved user satisfaction
---
8: Canva
Canva is a drag-and-drop online graphic design tool to create posters and graphics for social media, print and other requirements. The hundreds of templates and design elements make creating designs less time-consuming.
What You Can Do
Create graphics by customizing existing templates
Change colors of text, background
Replace images on templates with your images
Why Use It
No design experience required
You don't need to be creative to customize beautiful templates
Outcome
Beautiful designs with no design experience or knowledge
Save hundreds of hours designing custom posters, ads, and other graphics
---
9: Pixlr X
Pixlr X is a powerful online image manipulation tool similar to Adobe Photoshop. You can do all the basic image editing works on the online Pixlr editor from your browser.
What You Can Do
Intermediate level image composition using multiple photos and elements
Basic image editing like cropping
Intermediate level image color correction
Intermediate photo retouching
Add filters and elements for creative photo editing
Why Use It
Fast editor providing seamless editing experience online
Intermediate to advanced image editing can be done
Outcome
Don't hire a graphic designer for basic photo editing works
---
10: Google Analytics
Google Analytics helps you to track and report the activity of visitors on your website. It allows you to monitor how people interact with the website.
What You Can Do
Track the activity of website visitors
Get invaluable insights about your website traffic: number of visitors, number of average pages visited, bounce rate, source of the traffic
View real-time traffic analytics from your website
Find popular pages on your websites and average time spent by visitors on a page
Conversion tracking
Find out which pages your visitors don't like
Find out location, gender, age, device and OS of your website visitors
Track sales activity in ecommerce websites
Why Use It
Get invaluable insight into the traffic on your website
Understand what works and what doesn't work on your website
Identify user experience issues with individual pages
Seamless integration with Google Ads, Google Datastudio and Google Tag Manager
Outcome
Improve your website based on the insight gained from tracking traffic
Measure the success of the various pages and entire website
---
11: Google Search Console
Google Search Console allows you to monitor, maintain and troubleshoot the presence of your website on Google Search Engine. It's a platform for you to interact with Google regarding your website.
Google will also give you suggestions and notifications about issues with your website.
What you can do
View which queries (keywords) bring traffic to your website
Analyze your web pages impression rate, click rate, and position on Google Search.
Submit your website's sitemap for better indexation
Submit new URLs from your website to be indexed on Google Search Engine database
Request to remove unwanted pages on your site from showing up on Google Search (may not work)
Get alerts about the issues with your website
Why Use It
Control the presence of your website on Google Search
No alternative for this tool
Outcome
Your website gets better visibility on Google Search
More traffic on your website
---
12: Google Calendar
Google calendar is time management, scheduling, and calendar app. It allows you to mark upcoming events and meetings on a calendar so you keep track of them quickly from any de device. You can also create an event and invite others. Once they accept the invitation, it will be marked on their calendar as well.
What You Can Do
Add events with date, time and location (event could be offline or online
Invite others to the events via email or sharing link
View events on weekly, monthly or yearly calendar dashboard
View the birthdays of your Google contacts
Create reminders for time-sensitive tasks
Why Use It
Sync events automatically from Gmail
Get an overview of the upcoming event
Get automatic reminder notifications for the event
RSVP to event invitations right from your inbox
---
13: Zoho Calendar
Zoho Calendar is an alternative for Google Calendar. Both of them work pretty much the same way and offer similar features.
---
14: Evernote
Evernote is a tool for note-taking, organizing notes, archiving notes and store images, audios, videos, and documents. Apart from that you can also use it as an organizer and planner, bookmark manager.
What You Can Do
Take notes, organize them with tags
Create notes in different forms including texts, images, videos, audios and documents
Create notebooks, memos, checklists, and to-do lists
Share your notes and notebooks with others and start a discussion
Clip and highlight articles from the web for academic research
Why Use It
It organized all the information you need in one place
Sync all your notes and other data across computer, phone, and tablet
Access your notes from any device
Clean, minimalistic, simple and intuitive interface
Outcome
It becomes easier and less time consuming to access your notes and related materials
---
15: Google Keep
Google keep is a simple note-taking app. It helps you to save your thoughts which you can access from any device later.
What You Can Do
Take quick notes
Set reminders
Add to-do lists or checklists
Organize your notes with tags and colors
Add voice notes
Why Use It
Create and access notes quickly
Automatically sync across devices
---
16: Expensify
Expensify is a simple expense management tool. It allows you to record your expenses, keep track of them and generate expense reports.
What You Can Do
Enter each expense by taking a photo of the receipt
Submit business expenses to the relevant authority for approval and reimbursement
Categorize, tag and group expenses for organized reporting
Why Use It
Record expenses quickly by just taking photos of the receipt
Expensify automatically transcribes the receipt
Generate expense reports within seconds
Integrate with accounting software like QuickBooks, Xero, NetSuite, etc.
Outcome
Well organized expense details
Less time spend on entering, organizing and creating expense reports
Expensify has different plans for different requirements.
Individuals can use it for free but the smart scan feature is limited to 5 scans in a month in free plans.
---
17: Paypal
Paypal is a comprehensive payment system. It makes international money transactions easier. It's not free, but it makes international transactions a lot cheaper.
What You Can Do
International money transaction
Link your credit and debit cards
Purchase items from anywhere in the world
Why You Use it
Cheaper international transaction fees
180-day buyer protection
Outcome
Less expense for international transactions