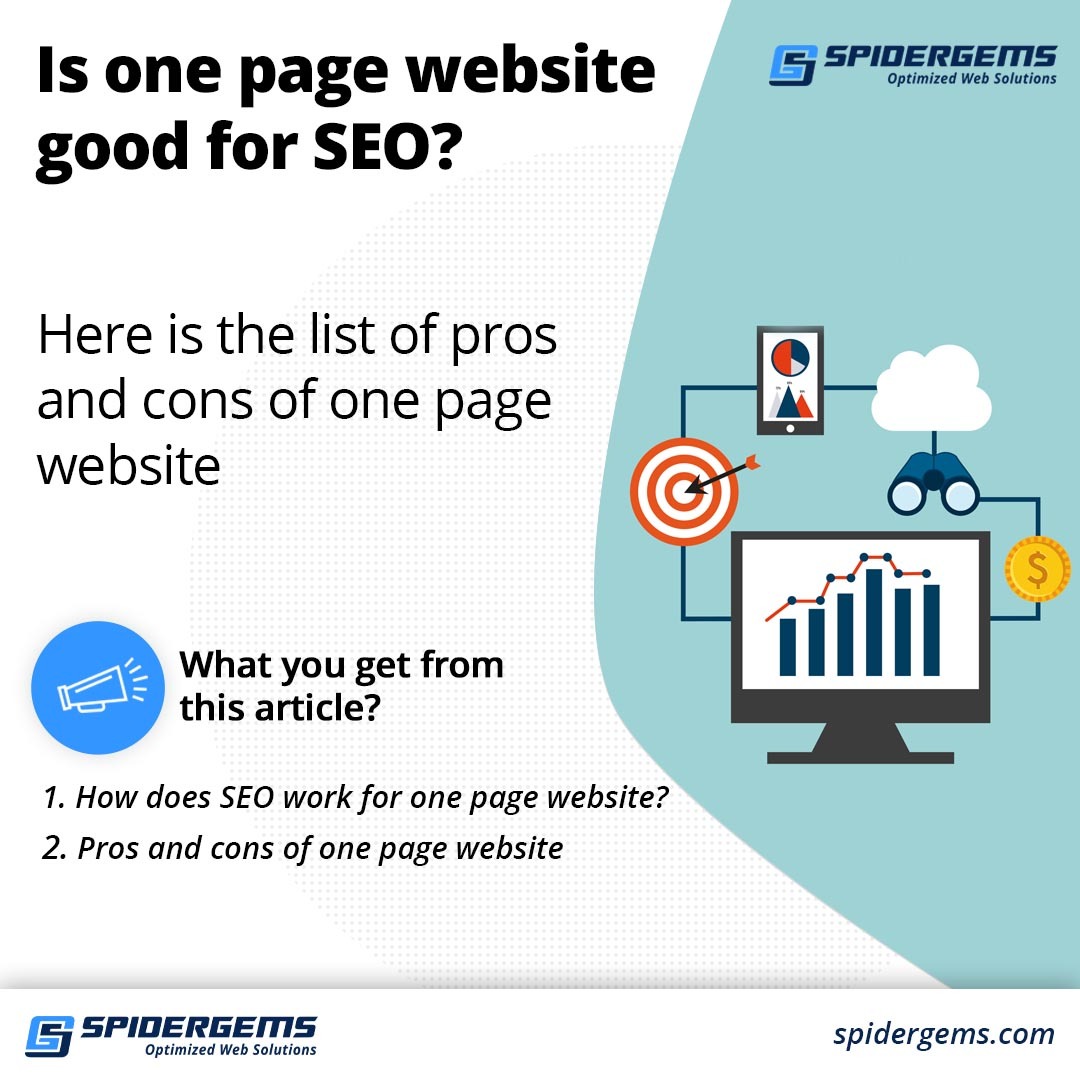 One page website SEO – Introduction
On a high-level categorization, today's websites can be broadly classified into two segments. one with multiple pages such as home, service, contact, blog, etc., that we are quite familiar with and those with just one page to display everything a business has got to offer. A person who is into SEO or web development would be familiar with the term called "one-page website or single-page website". In short, these are websites that contain all the information about the products and services that a business has got to offer neatly laid out on a single page. But from an SEO's perspective, the first and foremost concern would be – would a one-page website fare well when it is optimized for search engines? Is one page website SEO hard to optimize?
Well, as a coin has two sides so does this! One page website has its pros and cons. Our team would like to throw some light on one-page websites being optimized for search engines with a few SEO metrics explained. If you're planning to create a one-page website for your business, then you are in the right place. Without further due let's get into it.
What you get from this article?
1. How does SEO work for one page website?
2. Pros and cons of one page website
What exactly is a one page website?
One page websites are usually characterized with a long scrolling page with no additional pages like about, services, contact us as found in any conventional website. To navigate to different sections on the page a user would have to scroll up or down to spot the required information that he/she is looking for from the whole content.
A one page website is gaining good popularity among small business owners, as in most cases, a single page would be enough to exhibit all their business information that a visitor would want to know.
Is a one page website a good option for you?
Before you zero in on choosing a one-page website for your business, you need to understand when it makes sense to use a one-page website. Here are a few examples to help you choose.
Individual portfolios: If you are a freelancer, a single-page website is more than enough to describe you and your work. This would also include contact info, featured project, and images.
Brochure websites: If your business is small and has only a couple of products to display with photos, contact information, and an introduction to your services then there isn't a need to have a multi-page website. A one-page website is all that you require.
Landing pages: When your primary intention in business is conversion, it requires quality narration which would help in grabbing potential customer's attention. This requirement needs a landing page to have undivided customer awareness. Also having such a page helps when a temporary collaboration with another brand or quick site promotion is required.
SEO metrics play an inevitable and significant role in business growth and business owners have to know about the SEO performance. This task is quite simple when it is for a multi-page website. But the question here is – how does SEO work for a one-page website? Is a one page website good for SEO? Are there areas that you can optimize on a one-page website for SEO? The answer to all these questions is, of course, yes. Here are a few one page website SEO tips that you can use for better ranking.
Define your content section
Before developing content for a one-page website, one has to plan and execute keyword mapping. As there is just a single page to impress your customers, presentation, and structuring your content must be top-notch. Distinguish your content section with <div> and <section> tags to make it look a class apart.
As each section needs to have unique content and heading, it proves to be good using multiple <H1> tag on a single page to distinguish & stay highlighted from the rest of the section. It is important to use one <H1> tag per section. For images, optimize the name of the image and alt tag for each section as well.
Keep up to date content
Having unique and value-adding content is important. Update your content from time to time and align them with current trends in your business vertical which will certainly have a good impact on one page website SEO.
Track everything with google analytics
With analytics, you can track the strength of internal links and other SEO boosting information on the site. On a multi-page website, even if one page is not performing, there is an option that we can drive traffic from other pages. Whereas, on a single page website, it's quite crucial, that we pay more attention to all factors helping a one-page website for SEO Progress.
Keyword optimization
The use of Optimized keywords without losing the information conveyed to visitors by using relevant keywords for each section is a good practice. Create a <div> or <section> for each keyword and assign a proper ID according to it.
Advantages of a one page website
Intending to impart clear knowledge to the readers, We have listed out the pros and cons of a one-page website.
Better Mobile Experience
Today most people are surfing the internet from their mobile device, which is one of the propitious benefits for one-page website webmasters. One page websites are well adapted to mobile devices and users find it very easy to navigate.
The loading speed of the website is a vital factor to be considered when it comes to SEO. But in a one-page website, we don't have to worry about the speed of the page. It loads much faster than the multi-page website, which is a great advantage in SEO perspective and users don't have to wait longer for the website to load.
Easy to target a specific audience
One page websites have a clear purpose to promote a limited number of products or services in a simple and direct manner. This would be the best choice to target a specific audience with a certain type of user experience. All information that shows up on your site should have a purpose and be placed in an order to suit your business needs. The simplicity of a one-page website should not be cluttered with unwanted photos and posts, as it would lose its basic purpose.
External links are a major factor that determines how well a website ranks. As a one page website would have only one main URL, every off-site and inbound link will point to the same URL, and so there will always be a 1:1 ratio of links to the pages, which is quite favorable for a one page website SEO.
Disadvantages of a one-page website
Here are some of the cons of the one-page website,
As a one-page website is designed for one main concept, it is hard to target more keywords. SEO strongly relies on the keywords and the proper placement of the same in your content.
Shortage of details
Another drawback is the fact that there is a restriction on having detailed content, as your content has to fit into a single page. It may have a negative impact on the visitors who are looking for in-depth details about your business.
Blogging is one of the best SEO tools to drive more visitors to your site. But, this benefit cannot be leveraged by a one-page website as it doesn't allow you to have a blog.
Lack of Title Tags & Meta Descriptions
Title and meta descriptions are the primary things that appear on the search result page which helps users decide whether to click or not. But there is only one title tag and meta description in a one-page website, which is another drawback of a one page website SEO.
Conclusion
Though a one-page website has its pros and cons, whether it suits your business or not depends on your business goals and needs. One page website SEO is not an impossible thing anymore. Some extra work to be more focused and creative is all it takes for better SEO on a one-page website. If you prefer to avoid cluttered design in your site and feel precise information can well describe your business to your audience, a one-page website would be a better choice.
If you decide to create a one-page website for your business, or to know further details about one page website SEO, feel free to reach our team at Spidergems, we are here to make your SEO task much easier.