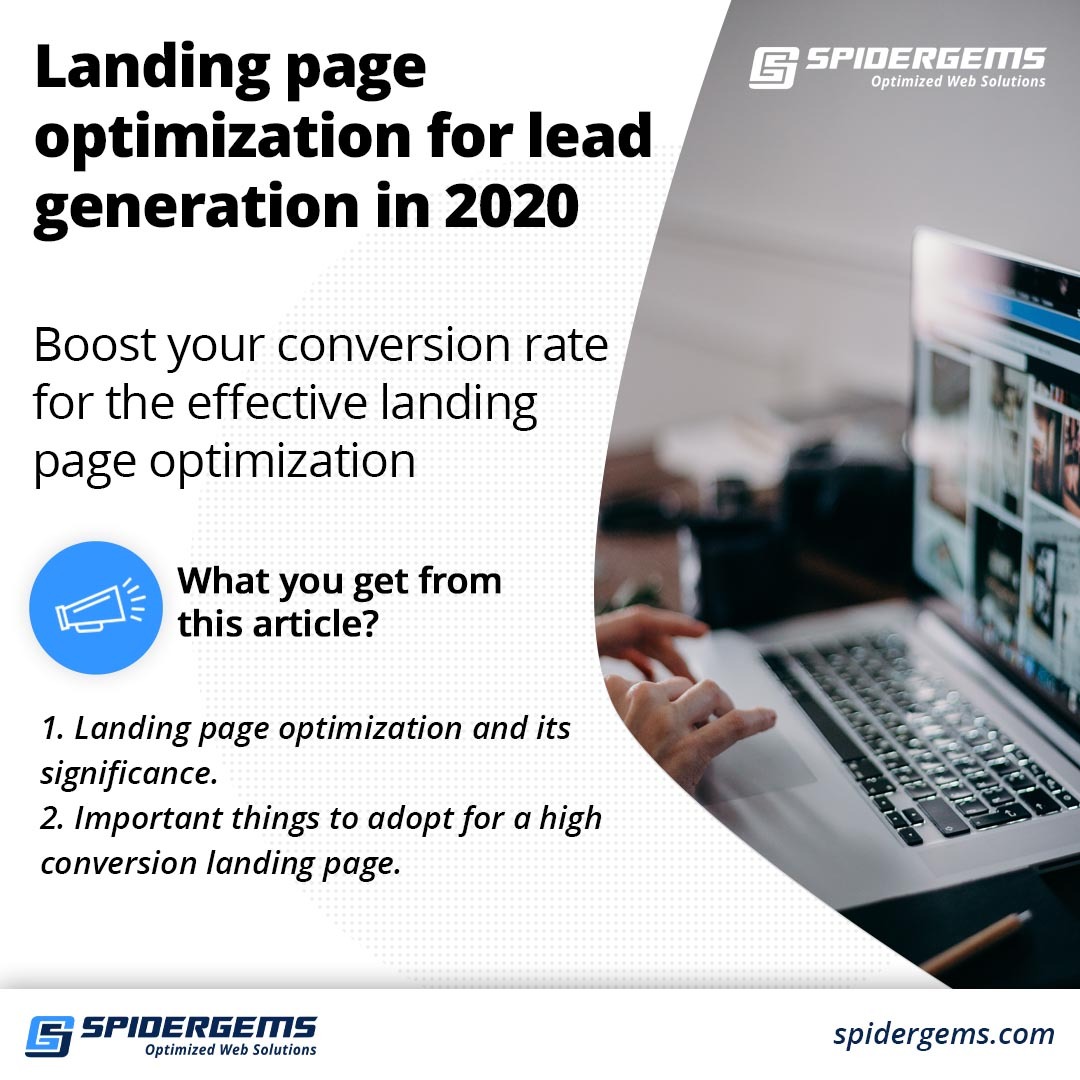 What you get from this article?
1. Landing page optimization and its significance.
2. Important things to adopt for a high conversion landing page.
High conversion landing page
A high conversion landing page acts as a portal to shift users down the funnel more productively. It helps visitors struggling with CTA anywhere on your homepage, as they can easily find it on the landing page and complete the required activities such as subscribe, sign up, buy or join. So when making a high-performing landing page, you must know your target audience and create the right sections to project your value effectively.
There are some techniques to developing this kind of content that you can try to implement on your landing page
Downloading applications: Whether your organization is involved in building applications or provides specific services, this will be a productive method to get new subscribers and downloads.
Online membership community: Appreciate and nurture discussion among interested customers related to businesses to grow traffic. For this, you can utilize your landing page to provide membership to your online groups.
Course registration: A lot of work goes behind designing courses and certifications, but you can use this in your landing pages to fetch student data.
Engaging email newsletters: Attempt using blog content on your landing page to get subscribers to your email newsletters.
Event enrollment: Enrolling for any event starts with the need for contact details, which is why a landing page is essential for a successful conversion.
Free trial proposal: Be it a product or services that you provide, you can utilize a landing page to fetch data for a free trial subscription proposal.
How effective landing pages can improve your marketing campaigns
Generating positive lead: The number of landing pages you create is a prime factor. This helps in improving your site performance. A nominal count of 10 to 15 landing pages results in improving the number of positive leads you earn by 55%. So when having 30 or more pages you will earn seven times the positive leads as compared to having fewer than 10 landing pages.
Good conversion rates: For landing pages, the average conversion rate is calculated by a factor of 2.35%, but still you can increase these conversions by 300% if right targeting and landing pages methodologies are followed.
Good ROI: The right marketing tactics are important for a successful landing page campaign. By use of a conversion rate optimization tool, you can generate an average increase of 223% in an organization's marketing operations and also get good ROI.
Good landing page optimization will adhere to the below-mentioned points
Knowing your target audience
Ensure your landing page is connecting to the right target audience. Understand the issues, requirements, and expectations of your target audience. Through advertisement, if you are getting traffic into the landing page, then try to make different ads and add more editions to your landing page.
Make use of right and attractive headlines
The most significant part of your landing page is the headlines. A user redirected from an ad, must-see correlation between the headline and the ad content. For example, If your banner or PPC ad conveys phrase like " best mobile app framework ," then this phrase or context must be present in the headline of the landing page also.
Use relevant and clear content
Make your text clear, relevant, and simple rather than writing with an intent to fill the page, so that visitors can find their requirements easily and be able to read it quickly. Use some bullet points and ensure that the language used in the ad is the same as that used on your landing page.
Focusing on driving visitors to perform one particular action
There must be only one specific action for the users to perform on your landing page – be it subscribing or purchasing. Having more options has a negative impact as this may lead to less conversion rate.
Eliminate disturbing navigational links
Eliminate extra or unwanted links, menus, buttons, that have nothing to do with the specific ad campaign.
Create a checkout option to stand out
The one action you expect from a user visiting your page has to be placed in an eye-catching and clear way. Add a big sign-up form on the landing page to the right side; with high-contrast color to look attractive. If the landing page is lengthy for scrolling, just replicate the form or button at the bottom of the page.
SEO-Landing page optimization
The landing page becomes useless when your target audience is unable to locate it. When users are seeking some products or services, they often begin their search on search engines like Google or Bing using relevant keywords.Analyzing what users are searching for using particular keywords on search engines will help improve conversion rates. You can get these data using online tools like Google keyword planner ,Ubersuggest , etc.
Maintain a brand identity
Your landing page should not be contrasting from your overall website and brand. Instead maintain the same color, font, and even overall look and feel of your site is essential. This reflects in strengthening brand identity.
Final thoughts
Landing page design must be given prime importance. An efficacious landing page design should be simple, uncluttered, and deliver a value proposition that can promise a good conversion rate, while an ambiguous one would be displeasing, and not provide a clear picture of what the users receive in return for his data. To make sure that your landing pages provide information one can use, you should verify that the information is up-to-date, accurate, and non-redundant. Hire a professional web design company to convert visitors into your customers. We at Spidergems, follow a set of guidelines that includes detailed research, audience persona, and performance optimization. Our team can create custom landing pages that are specifically designed for your business.