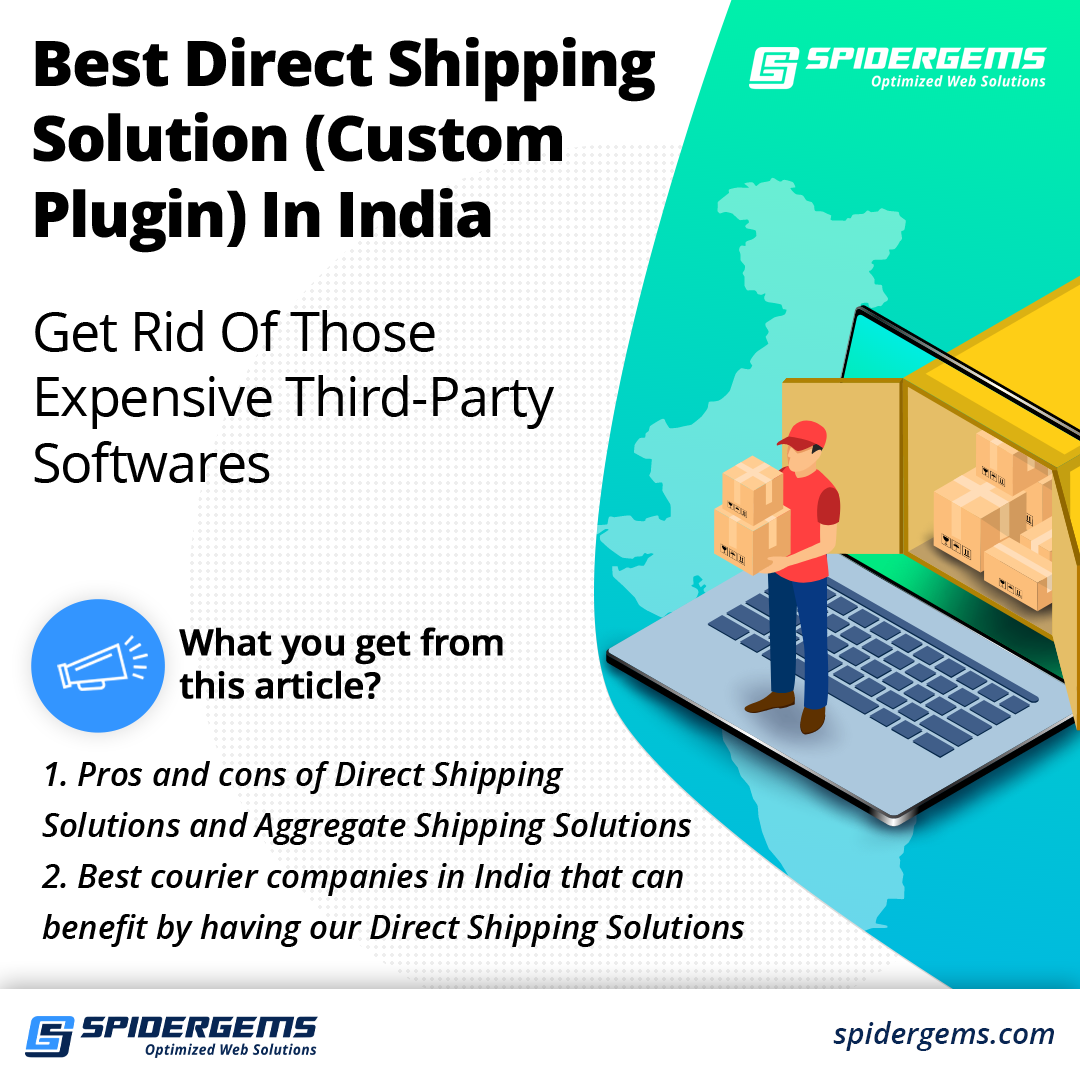 How We Made That Possible?
Due to price hikes in third-party automation software, courier companies find it difficult to earn profits. If they do so, they spend their money giving to those third-party automation companies. So to bring a solution for this, we at spidergems got you a custom shipping plugin for courier companies to be directly integrated into Woocommerce.
Below we have listed the pros and cons of Aggregate shipping solution and Direct shipping solutions
Pros of Direct shipping solution (Custom plugin)
Customers can track order information directly from the woocommerce website
The courier service provider can also keep track of the order delivery
Customers can pay the exact amount to the courier
There will be no extra charges collected for the custom plugin after the one-time payment.
Easy to use, and that makes it a good user experience.
Cons of Direct shipping solution
No automatic data sync between the ecommerce website and the courier/shipping provider.
You (Shop Owner) will have to provide customer support
Pros of Aggregate shipping solutions (Third-party software)
Auto data sync between website and shipping platform
Customers can track order from a custom subdomain
Customer Support
Cons of Aggregate shipping solutions
Highly Expensive
Since they act as an intermediate, there will be many problems arising in delivering the products, and eventually, it leads to a time-consuming process.
Customers are not allowed to negotiate on charges with the courier company directly
Here is the list of cost-effective courier companies in India that can benefit by having our Direct shipping solutions (custom plugins)
1. The Professional Couriers
Professional couriers are the most affordable and popular courier services in India. With their excellent reputation, they are successfully serving their services all over India.
2. DTDC India
DTDC is the most preferred among all companies because of its service quality and value they offer to their customers. DTDC has spread its service across 220 countries.
3. First Flight Courier
The First Flight courier is shipping over 220 countries and has around ten offices across the globe. They are affordable, and a lot of new e-commerce ventures also prefer them.
4. India Post
India post is the most affordable option that you would ever see. They are reliable, and they can even deliver in the remotest of the location.
5. Gati
Gati is a pioneer in distribution and houses, and they almost have 5000 people to stay on track with the delivery and pick-up of your shipments. Gati work 24*7 for their customer to solve their queries.
6. ST Courier services
ST Courier is an Indian courier company that operates primarily in Southern India. With over 1000 conveniently located offices serving over 1900 pin codes, spread over 25 cities. ST couriers is an upcoming courier company that looks promising.
Conclusion
Spidergems is a leading software development company in India, offering customised Woocommerce shipping plugins exclusively for courier companies. If you are one of those who need this solution, Contact us now.